We can tell you a few more juicy details about Pure's coming high-end array, and we're deducing that SolidFire has a product capacity refresh coming.
What we knew was that the new range-topper would boast up to 1.5PB usable capacity using 4 and 8TB 3D NAND modules (SSDs). It would have always-on QoS, support thousands of virtual machines and be priced at less than $1GB/usable capacity.
We saw an image of the new box and deduced 48 drive slots from that, implying 384TB using 8TB drives. That was wrong, as a Pure source tells us there are 20 more slots in the 3U base or head unit, with its two controllers, making 68 slots in total – 48 in 4 x 2U expansion shelves – and a nominal 68 x 8TB = 544TB raw capacity.
That's nominal, because 7.68TB 3D V-NAND TLC SSDs from Samsung were shown at the recent Pure Accelerate event, and that would make 522.24TB raw. A 2.9 data reduction factor would then get us to 1.5PB usable.
That means we can now add more detail to the Pure FlashArray product table: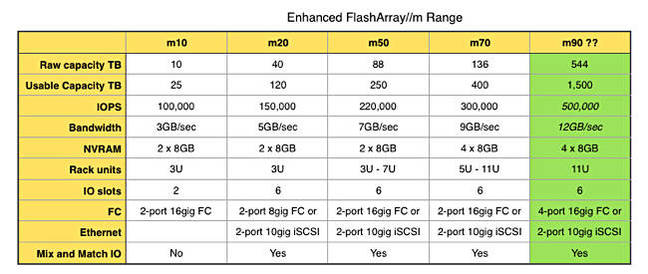 FlashArray m20 - m90 can have Fibre Channel (FC) or Ethernet adapters plugged into IO slots; "gig" is shorthand space-saving for GB/sec.
The green column is for the new box; we've called the FlashArray//m90 but that's Pure (excuse the pun) guesswork. We're told that the new array will use the //m70 controller chassis, with the same NVRAM and the same number of IO slots. But a 4-port Fiber Channel is coming, which will double up the Fiber Channel ports.
The controllers will be updated and so the new system will go faster than the m70; the performance increment isn't known yet, so the IOPS and bandwidth numbers are guesswork and in italics to indicate that.
This new info means we can also update our chart of all-flash array raw capacities: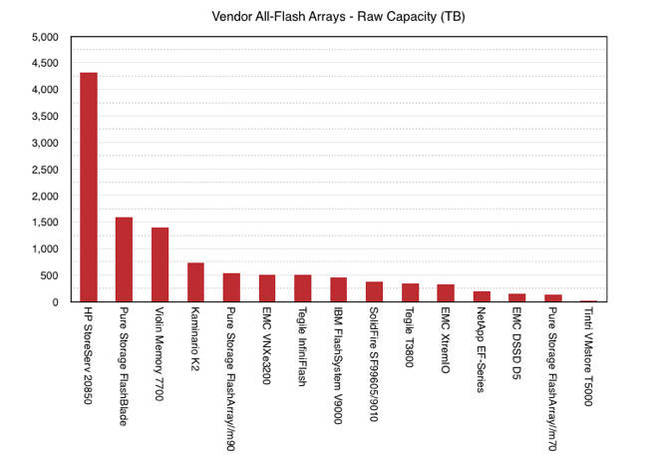 The new high-end FlashArray would put Pure in fifth position, behind Kaminario's K2.
SolidFire refresh due
A caveat here: our belief is that SolidFire is bound to increase its array capacity in fairly short order, by using higher-capacity SSDs. Currently the largest SSDs it uses are 960GB ones, and these are in the SF9605/9010 arrays it introduced in February last year.
It has said it's using Samsung 3D V-NAND product. That 32-layer product line, the PM1633, introduced in January last year, ranges from 480GB through 960GB, and 1.92TB to 3.84TB.
A newer PM1633a using 48-layer technology started shipping this month. Its capacity points are 480 and 960GB, 1.92TB, 3.84TB, 7.68TB and 15.36TB. Let's be semi-cautious and say SolidFire chooses 3.84TB SSDs; that would mean a 10-drive SF9010 or SF9605 would then have 38.4TB of raw capacity, four times more than the current model.
If SolidFire went for the 7.68TB SSD, then a 10-slot unit's raw capacity would be 76.8TB, eight times more than the present one, and a 100-unit scale-out SF9605/9010 deployment would hold 7,680TB (7.68PB). Start bumping that up with data reduction techniques and the effective capacity would shoot up towards the 25PB level.
That would be a nice NetApp/SolidFire present for cloud service providers and equivalent enterprise customers in the summer. ®