This article is more than 1 year old
Got a Toshiba laptop? Get it off your lap, then read this recall notice
Battery packs in 39 models vulnerable to combusting, warns CPSC
Toshiba is recalling the battery packs in 39 notebook models over fears they could be prone to catching fire.
The US Consumer Product Safety Commission (CPSC) says that the recalled battery packs - built by Panasonic - were shipped in 91,000 notebooks in the US and 10,000 in Canada between June 2011 and January 2016.
The recalled batteries power Toshiba Satellite, Portégé and Tecra models and were sold through Staples, Office Depot and the toshibadirect.com website.
The CPSC notes that some of the now-recalled packs were also sold individually or as repair kit by Toshiba.
"Battery packs included in this recall have part numbers that begin with G71C (G71C*******)," the CPSC says.
"Part numbers are printed on the battery pack."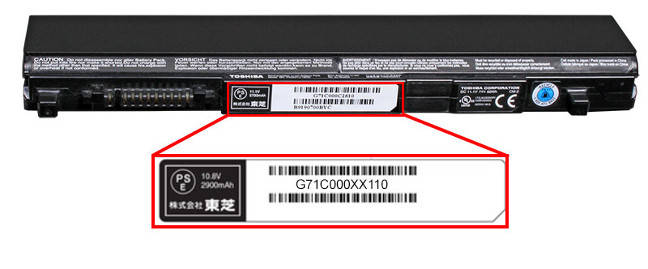 Where to check if you're packing a recalled unit
While Toshiba's website calls the recall "voluntary," the CPSC is advising that consumers "immediately" check their notebooks and, if using a recalled battery, remove the unit and use AC power until a replacement is delivered.
The CPSC said that it has received four reports of the batteries "overheating and melting," though no injuries were reported.
This is far from the first time notebook batteries have been recalled. The lithium-ion power packs are notoriously prone to overheating and catching fire when damaged, or due to manufacturing defects.
Such recalls have in the past forced PC sellers to call back millions of notebooks from their owners and added up to cost component vendors hundreds of millions of dollars. ®