This article is more than 1 year old
Microsoft announces Windows 10 Anniversary Update coming this summer
Windows 10 improves, but a cloud API steals the show
BUILD2016 Microsoft has announced an "anniversary update" to Windows 10, set for release this summer. The first release appeared in July 2015.
Windows boss Terry Myerson, presenting the update at Microsoft's Build event in San Francisco, said that it is not only for PCs and tablets, but also for phones, Xbox, HoloLens (for which developer hardware will be available shortly) and IoT devices such as Raspberry Pi.
The free update is, in some respects, fulfilling promises that were made when Windows 10 was first announced, but that were not initially delivered. But there are also brand new features such as the Linux subsystem, aimed at developers, which runs many Ubuntu applications.
One of the key new features is the delivery of Project Centennial, which Myerson called a "desktop app converter." It will wrap desktop applications for delivery through the Windows Store. A version of the Sage accounting system will be an early example.
Developers can also add code that calls APIs specific to the Universal Windows Platform (UWP), so that for users they work like Store apps, though with fewer security constraints.
Microsoft is also making Xbox One a platform for UWP apps, and unifying the Windows Store so users can buy and run the same apps on both. Every Xbox is now configurable as a developer device. Cortana, Microsoft's virtual assistant, is also coming to the Xbox.
Microsoft is improving pen support in Windows 10, for devices such as Surface which support such inputs. A new Ink Workspace will give quick access to ink-enabled applications. Build attendees saw how the Sticky Notes application integrates with Cortana and handwriting recognition, so that a written note about an appointment can be automatically added to your calendar.
"We want all developers to integrate ink into their apps and make the pen come alive," said developer exec Kevin Gallo, though it is only a minority of Windows 10 users that have suitable hardware.
The Edge browser is getting integration with Windows Hello, which authenticates users through facial recognition, so that you will be able to log in to sites which support this feature. Windows Hello requires a special camera, so only PCs with recent hardware can use it.
Developers will shortly be able to download the Windows 10 Anniversary SDK, with new features including Connected Devices, which lets developers "engage with users on all their devices," according to Gallo, so for example notifications dismissed on one device will be dismissed everywhere.
Other improvements include simplified background execution, the ability to write UWP applications that support 3rd-party extensions, improved Cortana APIs, and better analytics for developers via the Windows Store and Dev Center.
Facebook is bringing its Audience Network SDK to the UWP, to support Facebook's advertising platform.
Cognitive Services
This was meant to be a Windows keynote, but parts of it were focused on cloud services that can be used from any operating system, such as Microsoft Cognitive Services, the production version of codename Project Oxford. Described as "Intelligence APIs," Cognitive Services performs tasks such as parsing images to detect faces, emotions and activities; speech recognition; search; and text analytics (a considerable expansion from the original Project Oxford).
Cognitive Services is one of two new APIs that form the Cortana Intelligence Suite (formerly known as the Cortana Analytics Suite). The other is a new cloud API called the Microsoft Bot Framework, a natural language API designed for building chat applications; in other words, chat is the user interface. The example given was ordering a pizza by chatting with a bot.
It was a Cognitive Services example that closed the keynote. CEO Satya Nadella introduced Saqib Shaikh, who lost his sight when he was 7 and is now a software engineer at Microsoft. He made it his goal to build an app that could "tell you what is going on around you," even if you cannot see.
A video showed an app companion for Pivothead Glasses that could detect activities by sending images and videos to Microsoft's intelligence APIs. For example, when in conversation, the app attempts to read the emotions of those listening to restore some fraction of the visual cues which sighted people take for granted.
"Is everyone listening, or are they half asleep?" said Shaikh. This example, with its obvious ability to transform lives for the better, drew the greatest applause and cheers from the otherwise somewhat unexcited attendees.
He is going to change the world," said Nadella.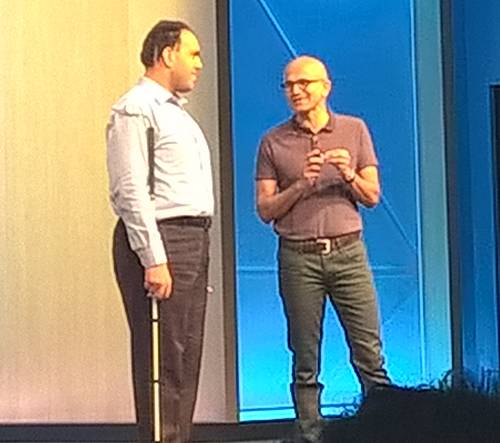 Microsoft CEO Satya Nadella with Saqib Shaikh, who has written an assistive app for visually impaired users
All power to Shaikh; yet it seems significant that it was a cloud API rather than Windows 10 which most engaged developers attending Build. Microsoft did announce solid improvements to Windows 10, and showed evidence of at least some momentum behind UWP, but it remains small compared to the iOS or Android platforms and it is hard to see how that will change. Phones running Windows were hardly mentioned, though of course they are part of the UWP ecosystem.
Windows 10 is getting better, but it is not yet so compelling that Windows 7 users will rush to upgrade. Just as well then, from Microsoft's perspective, that it is transitioning to applications and cloud services for a cross-platform world. ®