Seagate has introduced an 8TB external drive with no need for its own power cord.
Like 2.5-inch external drives which abandoned power cords ages ago, the 3.5-inch innov8 draws power from its host through its USB C wire.
Seagate says it uses Ignition Boost Technology "which eliminates the need for a power adapter on an 8 TB desktop hard drive for the first time."
We guess it's a kind of built-in adaptor. Seagate hasn't provided any details about it, saying only that it "is a true engineering milestone and breakthrough."
A Seagate blog about the drive states: "An internal battery gives the drive a boost during its spin-up phase. Once the drive is up and running, the speedy new USB 3.1 bus technology works to keep Innov8 humming along—and keep the drive's battery charged."
It continues: "Early on, when the drive is still cool, the battery supplies supplemental power to the hard drive ... But once the drive has warmed up, its power requirement is reduced and the host system is able to recharge the battery."
So that's it; an internal battery to boost power during spin-up. Neat, but hardly a true engineering milestone.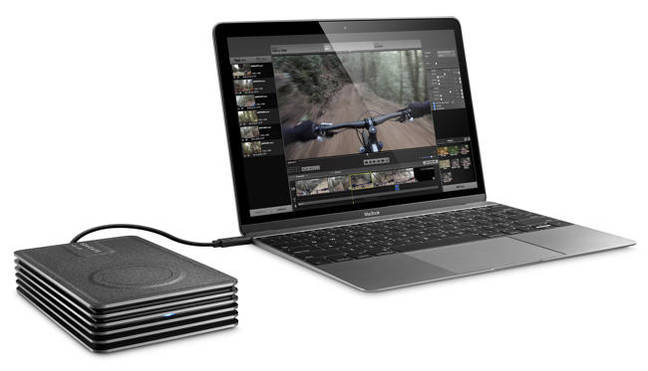 Seagate Innov8 drive tethered to laptop host
The Seagate blog says there is an Archive HDD inside the casing, which means it uses shingled magnetic recording, has six platters, reads and writes at 190/150MB/sec respectively, and spins at 5,900rpm. Obviously it is meant as a backup drive for notebook and desktop users.
The drive has a natty shiny aluminium wrap-around, six-ribbed side look, one rib for each platter, with textured dark grey top and bottom surfaces. The thing can lay flat or be placed vertically. Its casing was designed by Huge-Design, a firm which has done product designs for GoPro, HP, and Nike.
Customers get Seagate Dashboard software, with either one-click on-demand or customisable, scheduled backups, plus 200GB of Microsoft OneDrive cloud storage and Lyve software compatibility, so users can back up, access and share files from any device/location.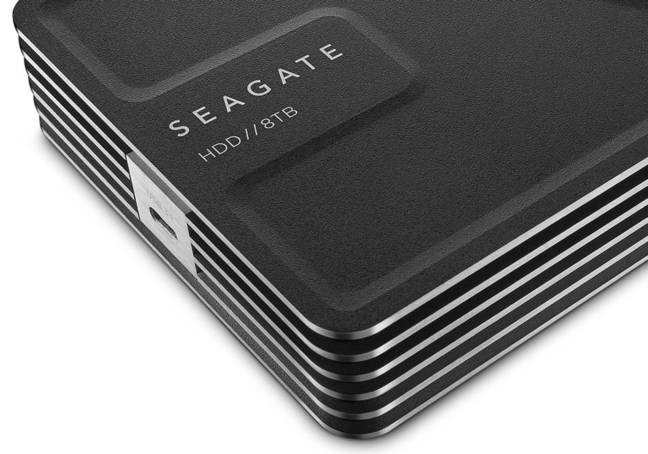 Innov8 detail
The Innov8 drive will be available in April for $349 (US MSRP) through Seagate.com, Amazon and other resellers. Get a datasheet here, although it hardly tells you anything at all, just relatively useless guff like the box dimensions; there being nothing about shingled recording or the spin-speed, rendering it virtually useless. The FAQ is slightly more interesting. ®