This article is more than 1 year old
VMware flushes Adobe Flash in new HTML 5 web client for vSphere
Decent vSphere clients are like buses: none for ages, then two at once!
vAdmins are having a great March: first VMware released vSphere 6.o update 2, with a new HTML 5 host management interface. And now it's released an HTML 5 interface for vCenter.
The new client is a "Fling", VMware's name for unsupported and don't-run-this-in-production-grade code it thinks vAdmins will appreciate. Flings are often used as de facto beta tests and that's the case this time around: VMware says it wanted to get the code in front of customers ASAP, is looking forward to users' feedback and promises reasonably frequent updates to the code. Which means it walks like a bet and quacks like a beta … you know the rest.
VMware's joined the "we're soooo over that leaky Flash trash " brigade in this release, writing almost apologetically that "The decision to go with Flash was made years ago, before HTML5 and developer tools were ready. The situation has changed, and we've been working very hard on removing the dependency on Flash to improve performance, stability, and security."
For now, the Fling does the following chores:
VM Power Operations (common cases)
VM Edit Settings (simple CPU, Memory, Disk changes)
VM Console
VM and Host Summary pages
VM Migration (only to a Host)
Clone to Template/VM
Create VM on a Host (limited)
Additional monitoring views (Performance charts, Tasks, Events)
Global Views (Recent tasks, Alarms–view only)
VMware says the client's new look is called "Clarity" and is also in beta. Here it is, embiggenable here.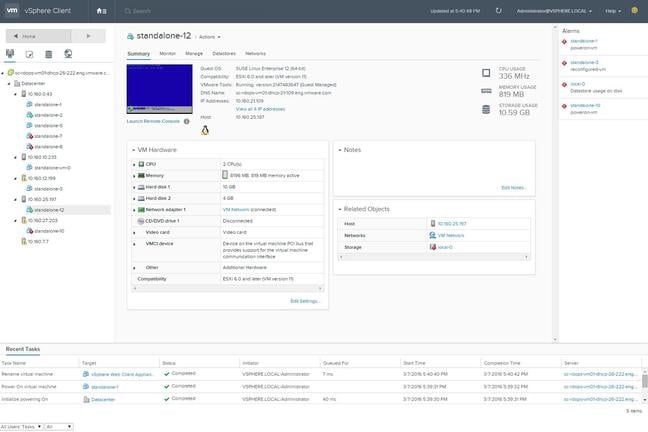 VMware's new HTML 5 vCenter management fling.
To play with the client, you'll need to install the OVA virtual appliance in which it has been packaged, available here at the top-left of the page.
vAdmins have been grumbling about VMware's web-based management clients for years. Virtzilla now hopes that grumbling can become constructive as they test this new client. ®