This article is more than 1 year old
Apple Fools: Times the House of Jobs went horribly awry
Plenty of bumps in the 40-year road for Mac makers
Apple at 40 Today marks the 40th anniversary of Apple's official establishment. Since 1976, the House that Steves Built has pushed out some of the most beloved personal electronics products in the world.
There will no doubt be plenty of articles waxing poetic on the many successes that have dotted the last four decades for the Cupertino giant.
This is not one of them.
Instead, we look back on some of the occasions when Apple looked the fool, either by releasing a clunker of a new product, botching a release, or simply being the victim of bad luck.
To keep things fresh, we omitted the screw-ups mentioned in our 2014 Macintosh anniversary tribute. Fortunately, when you've had a history like Apple's, there's still plenty to choose from (and one bonus instance where Apple doesn't at all look the fool). Let's start with...
Firing Steve Jobs
Perhaps at no time in Apple's history did it look any dumber than that fateful night in 1985 when Apple's board of directors decided it had had enough and stripped Steve Jobs of his power at the company, effectively pushing the Apple cofounder out the door.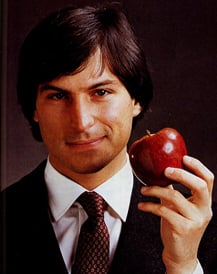 Jobs was a moody tyrant. Glad he outgrew that.
To be fair, it's not hard to see their thinking at the time. Jobs was notoriously difficult to work with, and he was pushing to have the not-yet-a-hit Macintosh business pushed over the still-reliable Apple II business.
But, looking back, we can see why this was such a poor move. Since that exit, Jobs maintained his reputation, but also made clear that his at-times testing leadership style was very much worth it. After he left, Apple began a decline that nearly killed it, and when he returned, the company began the rise to what it is today. A lot of that credit should go to the army of talented designers and engineers, but Jobs was undeniably a driving force.
So what was the dunder-headed move that would come close to firing Jobs? How about...
Nearly not hiring Steve Jobs back
Fast forward to the mid-1990s, when years of poor decisions (we'll get to those in a moment) have left Apple in desperate need of a new operating system to help get the Mac into the 21st century.
Ultimately, Apple would acquire NeXT, bring back Steve Jobs, and go on to revive itself with the iMac and OS X. But not before considering a different road that would have undoubtedly led to a very different history. Also in the running for Apple's buyout bucks was BeInc.
Also founded by a former Apple exec, Be's BeOS was at the time a very sleek and advanced operating system of its own. Ultimately, Steve Jobs was able to make a stronger case than Be's Jean-Louis Gassee, averting a probable disaster, as even Gassee himself admits.
That Apple's execs at the time let it get that far is silly enough, but what's even more harrowing are the reports that, prior to looking at either NeXT or Be, Gil Amelio considered moving the Mac over to Solaris or even...*gulp*...Windows NT.
And that whole situation was set up because of...