Micron turns $900m profits into a $97m loss. Only took 12 months
Fifth straight quarterly revenue decline reverses 11 profitable quarters' trend
Micron revenues plummeted for the fifth quarter in a row and it made a loss after eleven successive profitable quarters. What's up with the boys from Boise, the USA's memory and NAND powerhouse?
Revenues for the second quarter, ended 3 March, were $2.93bn, 29.7 per cent down on a year ago, and 12.3 per cent less than the first fiscal 2016 quarter.
Net income showed a loss of $97m. A year ago, Micron made a profit of $934m, so the turn-around has been stunning.
The immediate causes fingered by CEO Mark Durcan were an approximate 10 per cent decline in both DRAM average selling prices and sales volume, plus a six per cent decline in NAND average selling prices, partially offset by a sales volume increase. Micron said its results were influenced by continued weakness in the PC market, seasonality, and timing of product launches in other segments such as mobile.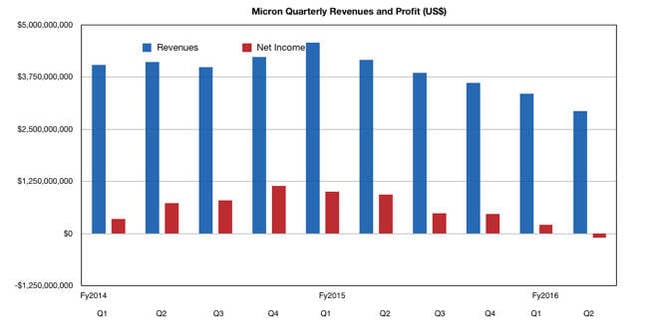 Durcan said the next two quarters should be better: "Although we continue to navigate challenging market conditions, we are on track with deploying our advanced DRAM and NAND technologies and improving our cost structure. As a result, we expect to significantly improve our competitive position as we move through the second half of 2016 and beyond."
The company is sampling Tier 1 OEMs with its new 3D NAND-enabled PCIe NVMe client SSDs. Over the next two quarters it will be shipping Crucial-branded, low-cost 3D NAND Client SSD – high-performance drives targeting gaming enthusiasts – and a 2TB client OEM drive. In the enterprise area, it's 8GB NVDIMMs at HPE and one other major OEM.
In the memory area, it has seen initial customer qualifications of 20nm 8Gb DDR4 products. It hopes to see strong double-digit bit growth and related cost reductions for DRAM in the third fiscal 2016 quarter as a result of the deployment of this 20nm technology.
Micron thinks that DRAM industry bit supply growth will decrease to a low-to-mid 20 per cent range in 2016, while NAND industry bit supply growth will be in the mid-to-high 30 per cent range – in line with or below the long-term demand outlook.
NAND progress will be slower than DRAM, with its 3D NAND ramp in manufacturing proceeding well and expected significant bit growth and cost-per-bit reductions starting in the fall.
CFO Ernie Maddock said during the earnings call: "We are starting to ship our S600 series SAS drive, Micron's first product produced through our strategic partnership with Seagate. We expect to realize revenue from this new product line in Q3, as we move into volume production."
Analyst haus Stifel Nicolaus' MD, Aaron Rakers, reports Micron commenting that the data center SSD market saw downward price pressure from TLC NAND competitors and aggressive enterprise SATA SSD competition with hyper-scale customers, attributing this to Samsung.
Rakers reckons SanDisk, with its 15nm technology, has a TLC NAND advantage over Micron.
Durcan talked about 3D XPoint progress: "This year we're in enablement mode, and we're working with a number of different end market segments. Some customers ... have significant interest in mobile. Some customers in enterprise for Big Data applications, some in mobile for low-power..."
Mobile device use is a relatively new idea. What about memory and flash cannibalisation?
"Early on, as we ramp this technology, we expect cannibalisation to be low to zero. Over time, as the technology matures and drives to significantly higher volumes, I would expect some of that volume to come out of what otherwise would have been DRAM, and maybe even eventually what otherwise would have been other types of non-volatile memory. But generally speaking, this is a differentiated technology that will grow the size of the overall memory market at least over the next two, three, four years."
Exotic technology like 3D XPoint is a 2017 story revenue-wise. Third quarter revenue guidance is a range of $2.8bn to $3.1bn, $2.95bn at the mid-point, roughly flat compared to the second quarter. That suggests another loss might be on the cards. ®