Archeologists using the most advanced satellite scanning methods think they've found a new Viking settlement in the North American continent.
Professor Sarah Parcak, from the University of Alabama's Archeology Department, has pioneered the use of satellite imaging in archeology and has spent the last year looking for new evidence of Viking settlements in North America. One settlement has already been found – L'Anse aux Meadows in Newfoundland – but now Parcak thinks she's found another.
Parcak used part of a $1m TED prize to fund the research, which involved sorting through thousands of satellite images looking for imperfections in the ground using visual and infrared imaging. After narrowing down the options, she and a team spent the summer digging in Newfoundland at a site 300km away from L'Anse aux Meadows.
The satellite images showed that a series of regular-looking structures had once stood on the site and, after careful excavation, the team found what appears to be the remains of a Viking-style turf wall and remains of bog iron used in a smelting process.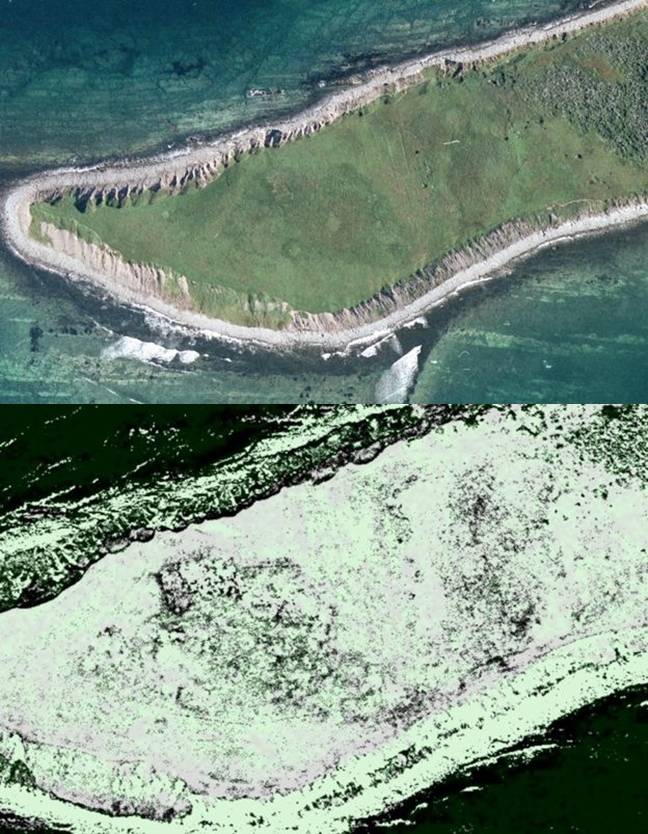 Now you don't see it, now you do. Credit: DigitalGlobe Inc.
That's not conclusive evidence – turf walls aren't unique to Viking culture, and other North American natives worked iron. The Inuit in Baffin Bay used iron tools, taking the metal from a 30,900‑kg (68,100‑lb) meteorite that landed around 10,000 years ago, but they cold-forged the metal, not smelted it.
Finding some organic matter that could be carbon dated would be conclusive, but the short dig has brought in the best evidence yet of another Viking settlement. Further exploration is planned.
"I am absolutely thrilled," Parcak told the BBC. "Typically in archaeology, you only ever get to write a footnote in the history books, but what we seem to have at Point Rosee may be the beginning of an entirely new chapter.
"This new site could unravel more secrets about the Vikings, whether they were the first Europeans to 'occupy' briefly in North America, and reveal that the Vikings dared to explore much further into the New World than we ever thought." ®