Elon Musk has revealed the Tesla Model 3, the company's attempt at making a more affordable family hatchback.
Launched before a live audience of adoring fans, Musk said he feels the time for a mainstream model is now, thanks to rising CO2 levels and growing disquiet about air quality issues caused by petrol-burning cars. Tesla first addressed niche markets, he said, to generate momentum and cash flow needed to tackle a bigger market.
The company now has enough cash for that mainstream play: a five seater with a five-star safety rating, range of "at least" 215 miles (345 km), 0-60 Mph in six seconds and a top speed of stupid. Musk also hinted at an accelerated Model 3 that goes faster than the base mode, said the car has enough space to "fit a surfboard inside" and promised that the US$35,000 price tag will see buyers acquire the best car available at that price point, bar none. Even if you don't buy any optional extras.
That's a big promise, not least because Musk revealed the Model 3 won't go on sale until late 2017, a date he said he is "fairly confident" he can meet. To join the queue to buy one you need to slap down a $1,000 deposit, so let's hope he's right about quality. And about Tesla's manufacturing muscle: Musk gulped a little when he said the company is ready to crank out 500,000 cars a year.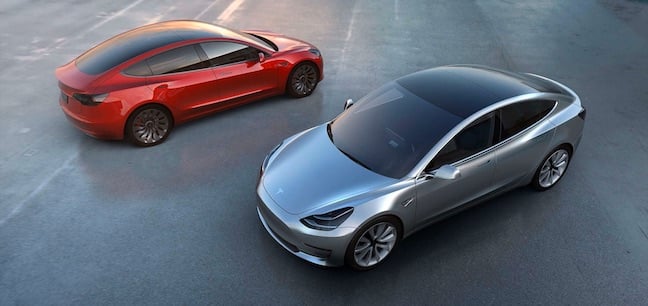 The Model 3 will come in go-fast grey or radical red. Disclaimer: we made up those names for the colours.
One thing the company says it is ready to do is increase the number of charging points for its cars. Musk promised Tesla will have 7,200 super-chargers around the world by the end of 2017 and 15,000 destination chargers, making it possible to drive "virtually anywhere" in a Tesla. ®