The FCC has launched a "broadband label" that breaks down exactly what service your ISPs offers and all related fees to it.
The goal of the new label - which looks a lot like that seen on the side of a food packet - is to increase transparency in broadband services. It will ensure there are "no surprises after you buy", FCC chair Tom Wheeler said at the launch. "Hidden fees have no place to hide."
The new label will be voluntary but if broadband providers decide to adopt it they will get a degree of protection from FCC investigations into net neutrality. By openly declaring all the elements in the label, consumers will not be able to claim they didn't know what they were getting.
If providers choose to maintain the status quo, where misleading marketing is almost a market norm, the FCC may come knocking.
The label was developed by the FCC's Consumer Advisory Committee and breaks down internet service into easily understandable components: the monthly charge for the service, both month-to-month and under a contract; the data provided and any caps on use, plus any charges if a data cap is passed; and a full breakdown of fees: both monthly and one-off.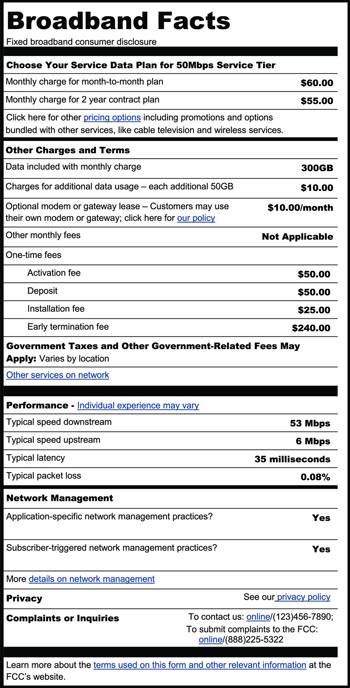 The new broadband nutrition label
The example label also includes typical network performance, including speed, latency and packet loss stats. And a simple yes/no on network management, plus hyperlinks to privacy policies.
"These labels provide consumers clarity about the broadband service they are purchasing, not only helping them to make more informed choices but also preventing surprises when the first bill arrives," said Wheeler in the launch announcement. "Customers deserve to know the price they will actually pay for a service and to be fully aware of other components such as data limits and performance factors before they sign up for service."
Under the FCC's Open Internet rules (net neutrality rules) broadband providers need to provide this information "in an accurate, understandable and easy-to-find manner". The label is the proposed official way of doing that.
"To get competition, competition, competition, we need information, information, information," said Wheeler.
The FCC said it receives over 2,000 complaints a year about surprise fees with their internet bills. And it said that the real cost of broadband can end up 40 per cent higher that what is advertised after taxes and additional fees are added.
The average cost of broadband in the US is between $60 and $70 a month. ®