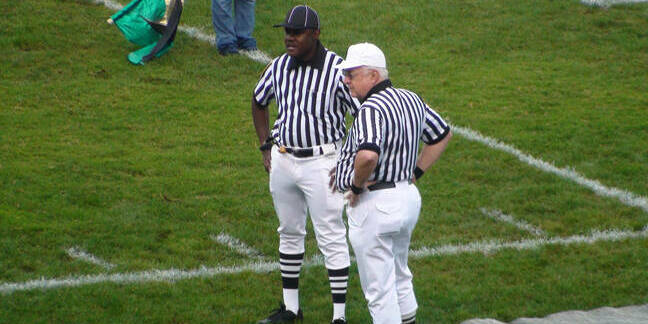 Twitter has paid a reported $10m for the streaming rights to ten NFL games later this year, surprising many and leaving some scratching their head.
The one-million-dollars-a-game deal allows the social media company to rebroadcast the stream from network giants CBS and NBC who have paid $450m for the rights to broadcast the Thursday-night games and who will also stream the games.
Also streaming the game will be Verizon, which also has digital rights for the games.
What does Twitter get out of it? It is able to see a small portion of the ads attached to each game but more importantly, the company hopes to use the games - provided for free - to increase its user numbers, which have been falling in recent months.
According to inside reports, Twitter won these secondary rights despite offering less than competing bids from Amazon and Yahoo. Twitter CFO Anthony Noto, who appears to have been the key driver in the deal and has given interviews explaining it, just so happens to have been the NFL's CFO until 2010.
One of the first things Noto did when arriving at Twitter in 2014 was cut a smaller deal with the NFL to stream clips and highlights from games.
According to Noto, the deal will attract more young people to Twitter and act as the start point for a whole new wave of video deals that will cover everything from sports to news content to entertainment.
It's not known exactly what Twitter will do but based on its previous approach with NFL clips it will stream the games on its site and its mobile app with a tightly controlled feed of tweets from, presumably, advertisers, and allow people to embed the live stream and, of course, tweet and retweet it.
Where is Twitter going?
Although some claim the agreement represents a good deal in terms of the money spent, the decision to spend $10m on restreaming video on a service that deals with short text messages is just one more sign that Twitter's management team has no coherent strategic direction for the company.
The company has come under increasing pressure to move toward profitability and has been criticized for its falling user numbers which are already significantly lower than other companies like Facebook. It hasn't helped that the executive team has been in a state of seemingly constant flux.
But most damning has been the fact that Twitter is simply copying the approaches of other companies rather than discovering its own unique position in the market. Recent efforts has looked like little more than an effort to make Twitter into Facebook, especially the expansion of the 140-character limit on direct messages - a move that the company also consider extending to normal messages.
Despite Twitter's issues being well known - the inability to control the sheer flood of tweets being just one, high levels of abuse and aggression being another - the company has failed to come up with any innovative or helpful solutions.
Another company that has failed to find its way and has spent its millions in a number of misguided efforts - Yahoo - also invested big in video content and streaming only to find that no one connected Yahoo to video.
The decision by Twitter to spend $10m on streaming American football games that are already readily available elsewhere appears to be just one more bad decision made by an exec attempting to force his perspective onto Twitter rather than the other way around. ®
Sponsored: Practical tips for Office 365 tenant-to-tenant migration