Huawei's P9 flagship: There's a lot to Leica
A dual lens beauty that can play with the big boys
Hands On "Samsung should be very concerned at what Huawei might be demonstrating in two to three years' time," I wrote in 2014, prompting some derision. Fair enough: Huawei didn't even have a 4G phone at that time. The consumer division hasn't even turned five.
But who's laughing now? Huawei has cracked it with the P9, a phone strong enough to break through to all four UK carriers. The P9 is easily the best Chinese phone yet, but that's something we've said every year for a few years. The pace of improvement in so many areas from Shenzhen manufacturers has been dramatic. The differences between the P8 and the Mates that appeared six months later is more than most manufactures manage in a year or two. It's just continuous work that has gone on largely out of sight.
Here, it's the Leica partnership that steals the show, adding a lot of quality to the imaging – and Huawei has even licensed the shutter sound and camera UI, and all flagships from now on will have Leica developed lenses, and the branding.
Huawei is also casting aside the guerrilla (eg, word of mouth) marketing tactics that didn't cost much money. Scarlett Johansson and Henry Cavill who don't come cheap are helping flog it, a far cry from two years ago, when Huawei swore never to borrow to market the brand or products – it all had to come from earnings.
There are two P9s, in another "homage" to Apple – hold their own with any competitive Android flagships out there. Just don't expect to quite such a Huawei bargain. Earlier P series models were priced £150-£200 (US$212-$282) below Samsung and Sony flagships. You got less for your money, but paid a lot less.
The P9 will be priced at €599 (US$683) for (3GB/32GB and the P9 Plus at €749 (US$854) – so a clear path is opening up between Huawei and its great rival Xiaomi, where the Mi5 is a collection of top parts given away at no profit.
(Mi5 is not a misprint).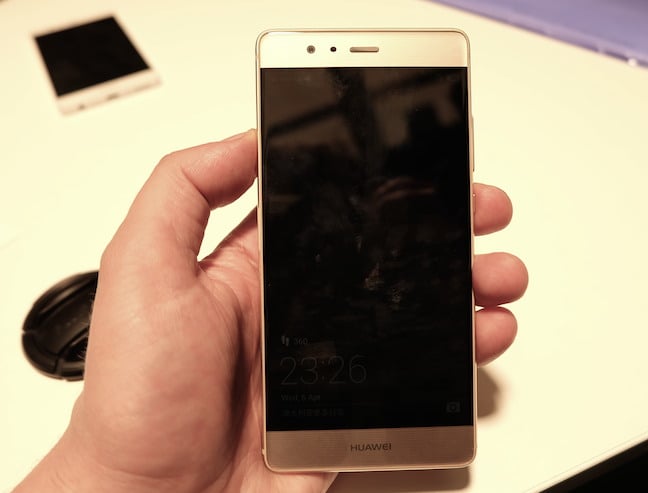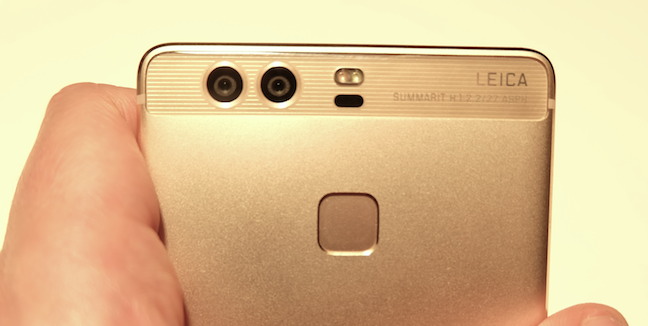 The Gold P9 Plus
Huawei's cameras were already impressive – I found the Mate S took better photos than the iPhone 6 Plus in a night time scenery head to head last year. But the dual sensor is even better. It's been seen in the HTC One models and LG flagships, and offers practical benefits such as great low light results, wide aperture bokeh (out-of-focus blur) effects, and depth focussing. (Laser focussing takes care of images at short range.)
But the second sensor is no Ernie Wise: they're identical and exceptionally strong sensors, with 1.25-micron pixels (smaller than Samsung's) letting in more light. The imaging is obviously the standout feature.
The Leica camera app UI will be familiar. You can swipe between regular, smooth, vivid, mono and Pro modes by swiping horizontally, but I found that in the sample units on display, it only worked in landscape mode. That's a bug to iron out.
The most impressive thing, and quite scary if you think about it: the camera doesn't jut out at all. Not a bit. And the case is already as slim as any rival.
But it isn't just about the camera: there are improvements all round. Huawei's own Kirin chips are finally competitive at the high end. This Kirin 955 is a SoC with 2x 2.5GHz A72 cores, 4x 1.8GHz A53 cores, Mali T‑880 graphics and dedicated image processing silicon.
If you haven't seen the Huawei Mate S or Mate 8, then the thin bezel and slim design will come as a nice surprise, making the current iPhone design look clunky. The high-quality case design sees a white model with a coated ceramic, as impressive as any contemporary phone.
It's actually hard to tell the two models apart – 5.2-inch and 5.5-inch isn't quite as dramatic as the difference between the 4.7-inch and 5.5-inch iPhones. I found them both comfortable to use, particularly coming from an iPhone 6 Plus – the P9 Plus packs the same-sized screen into a case almost 7mm shorter and 2.6mm narrower.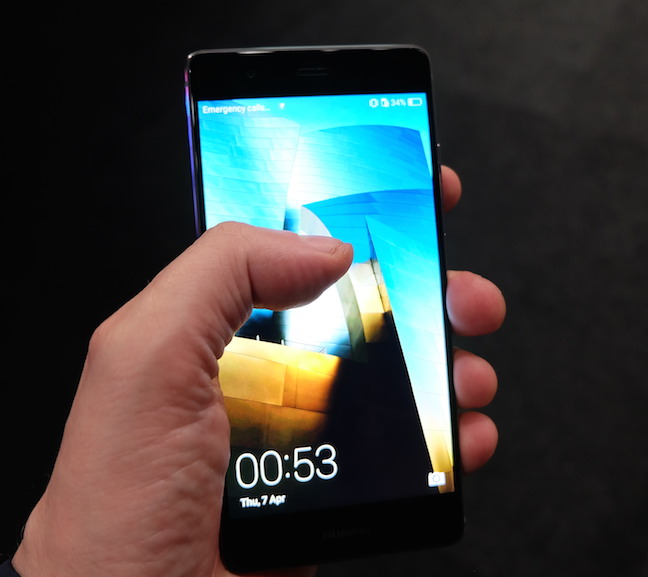 The smaller Huawei P9
The screen really dazzles with a full HD OLED and rapid response. Ferreted away in the settings is an option to halve the resolution to save battery. The fingerprint sensor (with gestures) has received an upgrade, Huawei says. The 9 packs a 3000mAh battery, the 9 Plus, 3400mAh; rapid charging is included, with dual IC charging, which means the current loads two cells at once.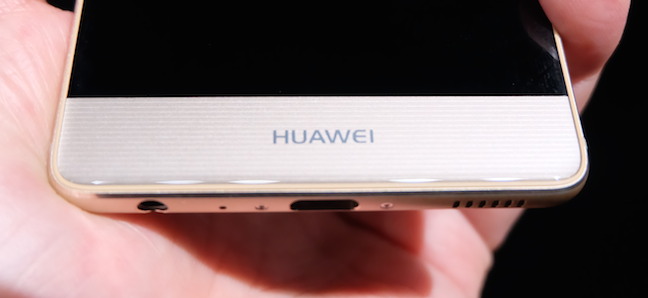 The P9 also bucks the trend of dispensing with infra red blasters. Many recent flagships have done away with IR, in the expectation that people control their gadgets from apps. But things can get messy with an app for everything; Huawei will bundle a universal remote app.
The software is the weakest link. The latest iteration of the Huawei Honor Emotion UI skin shows only a few subtle tweaks over the most recent Mates. With its pastel schemes and lack of strong definition in the font rendering, it's definitely a Chinese phone UI.
I don't mind EMUI and I know budget users who really appreciate it. Things that power users think of as nannying, novices find reassuring. But the quality of the software, fine for a bargain, falls short as Huawei is aiming at the high-end fashion and artsy set. The keyboard really needs an overhaul – because the spacebar is so short, my sample typing produced "The.quick.brown.fox.jumped..."
For now, the P9 has a seat at the table, and lots of work to do on the software.
With a review unit now thawing in the oven, we'll be able to give the imaging, battery and performance a more thorough going over shortly. Fire over your questions by email, or below. ®