This article is more than 1 year old
Axellio! X-IO conjures up hyper-converged PCIe monster
The NVMe fabric shared flash storage sun rises
Comment X-IO Technologies' Axellio* is a rackmount hyper-converged server/all-flash storage platform that will be sold through OEM, ODM and system integrators – and it provides an almost unbelievable combination of performance and density.
The company has been working on the technology for two years, developing a third product line, separate from the existing ISE and iglu offerings.
It is based around a 2U enclosure with dual server modules using4 Xeon 2600 v3/v4 server sockets in total, connected by an optional non-transparent bridge.
There are up to 72 dual-port NVMe SSDs, and a PCIe switch linking them to the server modules, with all CPUs able to see all drives at a sub-50 microsecond latency. Performance is up to 12 million IOPS from a maximum 88-core system.
X-IO took the decision that network latency inherent with using an internal SAS interconnect was intolerable and lower-latency PCIe-based interconnects and faster NVMe drives were the way to go, obviating any need to develop proprietary flash drives.
The dual-server modules, multiple-hot-pluggable power supplies and long-life fans provide enterprise-class reliability.
X-IO worked with partners, such as Intel, Toshiba and Mellanox during the project.
Four appliance products are envisaged at this stage, each with two server modules, and varying primarily with performance, and offering 32, 48, 72 and 88 E5 2600 v4 cores, with DRAM maximums of 128GB, 256GB, 1024GB, and 2048GB respectively. These use Intel motherboards.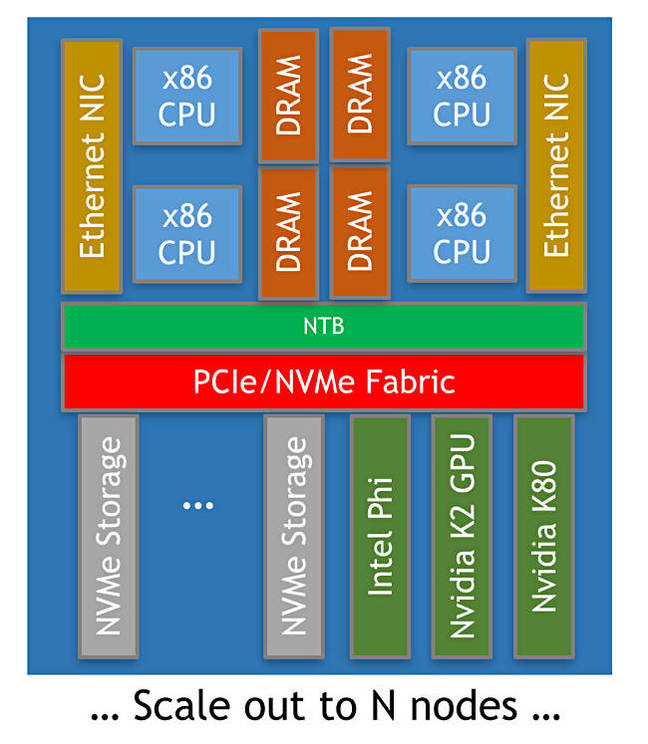 Each of these can have from one to six FlashPacs, containing 12 dual-port NVMe SSDs of 800GB, 1.6TB or 3.2TB capacity. FlashPacs thus vary from 9.6TB to 230TB. Our understanding is that coming 3D NAND SSDs could mean future capacity jumps to c7TB and beyond, taking overall capacity up to the 0.5PB area.
The network connection options are four 10GbitE or four 40GbitE ports. The architecture supports 10, 40 or 100GbitE and QDR/FDR InfiniBand and uses RDMA-capable IO Modules. There are two IO module slots per server; four slots overall. Slot 1 is PCIe gen 3 x 16 and slot 2 PCIe gen 3 x 8.
X-IO developed its own PCIe switch as no commodity-based product was available.
The transfer rate is up to 20GB/sec and battery-backed NVDIMMs are used for cacheing purposes.
Axellio will be a 100 per cent channel sale but through OEMs, ODMs and System Integrators rather than through a distributor-reseller channel structure. This ecosystem development is progressing and there is no lack of interest. Licensing the technology to ODMs is a distinct possibility.
Product plan sequence
The product planning envisages four phases of development:
Hardware-only
Hadoop consolidation
Scale-out hyper-converged wit the internal PCIe fabric exposed
Next-generation storage product sitting alongside the ISE product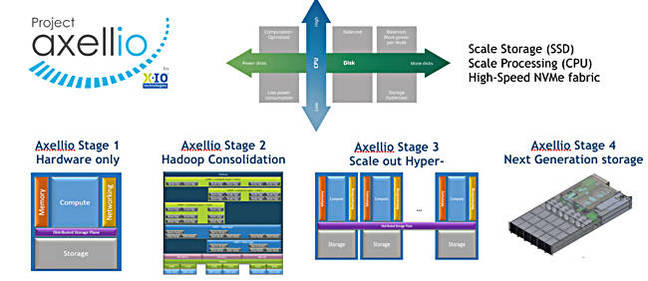 The Hadoop consolidation is being helped by a 1TB TeraGen application finishing in 410 seconds using the 2U form factor Axeliio box and 12 SSDs. We're told that, typically, a 15-server/30U rack space system would be needed for this application.
It indicates, we understand that a 1,000-node Hadoop cluster could be replaced by an 80-100 node scale-out Axellio cluster, with consequent infrastructure cost-savings, with a 15:1 to 10:1 reduction in rack space.
X-IO says that, up until now, in-memory systems, with associated expense, would be needed to get this level of performance, unless Axellio was used.
The product is in beta test presently and ODMs should receive shipments in the third quarter. We think the phase 4 product implementation could ship in 2017. Expect a five year warranty.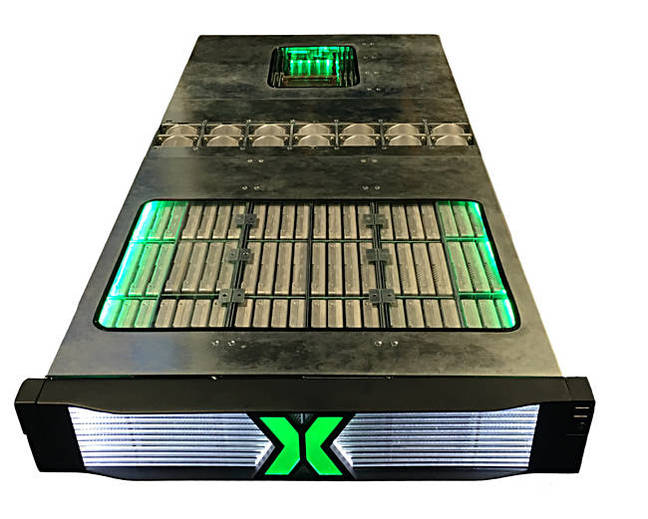 Axellio product with special top hole and lighting for Intel show, Intel being a strong partner for X-Io with Axellio
Comment
We note that the architecture of Axellio is Optane-compatible, meaning 3D XPoint memory could be used in future to speed the systems even more. What is more is that CPU offload could be entertained through using Phi processor or NVidia graphics card acceleration for specific use cases.
Our understanding is that Axellio is roughly about one third the cost of an equivalent performance DSSD system.
The storage desk at El Reg would be amazed if the large system and storage suppliers were not looking into Axellio technology. Our view is that X-IO has opened up a product adjacency and expanded its market, taking it into competition with suppliers such as Seagate's Dot Hill.
X-IO partners using Axellio will be able to compete with DSSD, Mangstor and Zstor and offer what EMC has characterised as face-melting performance. They will also have alternatives for hyper-converged systems from, for example, Nutanix and SimpliVity.
The fact that X-IO is building an OEM/ODM/SI eco-system around Axellio confirms to us that PCIe-based fabrics are the coming connectivity choice to kill off network latency inherent in Fibre Channel/iSCSI/file access to shared storage. Secondly, the hyper-convergence concept is also strengthened by X-IO's product technology.
For system and storage vendors facing questions about how to enter the hyper-converged and/or the NVMe fabric-accessed shared storage markets, X-IO's Axellio represents a way of avoiding costly acquisition-led entries into these technologies and the delays inherent in building their own product technologies.
Contact X-IO Technologies for more information.
The NVMe fabric shared flash storage sun has just risen another notch above the horizon in a new storage dawn. ®
* With apologies from subs' desk to the Latin scholars among you...