German storage supplier Zstor has fabricated its external shared NV-Series array with RDMA access, giving accessing servers the same response as internal NVMe SSDs – more than 10,000 times faster than Fibre Channel SAN array access.
The all-flash product is built using Mangstor NVMe SSD and fabric technology based on Ethernet or InfiniBand cabling.
Write and read latencies start at 30/110μs and are consistently low from idle to millions of IOPS. The array uses Mangstor's TITAN operating system, and the Mangstor NVMe SSDs are driven by a 100-core DSP (digital signal processor) along with algorithms which manage and schedule the use of individual NAND memory cells. This means device control logic is offloaded from the array's Xeon controllers and host servers.
The NV-Series delivers over three million random read IOPS and more than 2.25 million random write IOPS (both tested at 4KB block sizes).
It comes in a 2U enclosure with capacities between 5.4TB and 162TB. There are two or four Ethernet or InfiniBand ports with 56Gbit/s bandwidth,
Application areas that could use this accelerated IO storage engine are database applications such as OLTP, OLAP, data mining and data warehousing, and fHigh Performance Computing (HPC) applications like oil and gas exploration, financial processing and analysis, pre- and post-video editing, online trading, virtualisation and science-related simulations.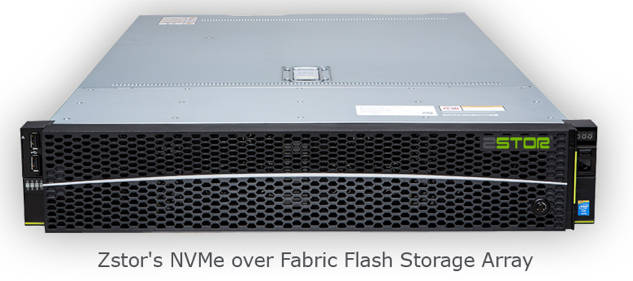 Helmut Kopel, Zstor CEO, said: "Our NV-Series NVMe over Fabric array not only delivers four to six times higher performance to servers when compared to other all-flash arrays, but does so at very aggressive acquisition costs."
The product comes with drivers for Windows and Linux operating systems which provide a local block storage interface and accessing servers bypass legacy iSCSI or FC storage I/O interfaces. They don't need fitting with their own SSDS, lowering overall costs, according to Zstor, by sharing centralised flash.
This Zstor product joins Mangstor and EMC's DSSD D5 array in offering SAN access at direct-attached flash speeds, with startups Apeiron and E8 in the wings off the main stage.
So far EMC is the only mainstream incumbent to offer NVMeF access to shared flash. If the technology delivers what its proponents say it can, then every flash array vendor will have to adopt NVMeF access technology, meaning HDS, HPE, IBM, Kaminario, NetApp, Pure Storage, Violin Memory sand X-IO.
NVMeF looks a good fit for latency-sensitive hyper-converged infrastructure appliance (HCIA) use as well, meaning Nutanix, Simplivity and other HCIA hardware vendors will need to look at the technology.
The NV-Series comes with a five-year warranty and pricing starts at 39.950 EUR excluding VAT. Check out more information here. ®