Verizon peeps gobbled by Frontier enter week two of crap internet
Services won't return until mid-month, ISP warns
The problems that have plagued the handover of broadband subscribers from Verizon to Frontier Communications are entering their second week – and Frontier says that some internet services will not be restored until mid-April.
The issues began on April 1, when people reported widespread outages and service disruptions in Florida, Texas and California.
Now, with the one-week mark approaching, users say that they are still unable to get reliable service from their former Verizon internet connections.
Reg reader Josh Cain says that he is still seeing problems with his Verizon connection that began almost the moment Frontier took control of his local area.
"Seems like Yakety Sax started playing the instant they took over the reins from Verizon," he told El Reg.
"I personally am still getting intermittent DNS issues (more down than up), despite pointing my router at Google's DNS servers."
Indeed, monitoring service DownDetector shows an outage map that as of Wednesday evening is largely unchanged from last Friday, as large portions of California, Texas and Florida continue to show outages on Frontier's service.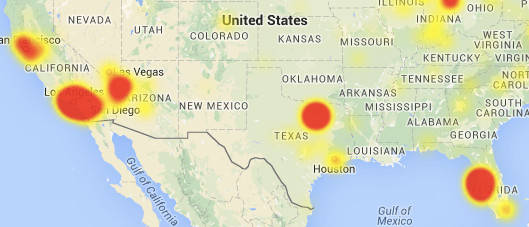 Problems continue in the newly-acquired regions for Frontier
Meanwhile, Frontier says in a status page that services including billing and accounting features and the Frontier ID account management tool will not be available to Verizon customers until the end of this week, while On Demand video features will not be enabled for Verizon customers until roughly mid-April.
Frontier acquired customers throughout the California, Texas and Florida markets earlier this year when it bought a portion of Verizon's FiOS TV and ISP services in a $10.5bn acquisition deal. ®