This article is more than 1 year old
Shall we? Shan't we? Nutanix inches towards IPO
Hyper-converged hotty close to public share offering, it is said
Background + Comment Nutanix has filed an updated pre-IPO document indicating it could IPO sooner rather than later this year.
The hyper-converged systems market, in which single scale-out products combine server compute, storage, networking and hypervisor software in one orderable entity with virtual SAN capability, is hot. In recent weeks:
Dell just announced a broad line of hyper-converged systems,
SimpliVity added the Hyper-V hypervisor to its products,
VMware upped its virtual SAN game with VSAN v6.2,
Lenovo is partnering with anybody and virtually everybody,
HPE has a second generation product set,
Cisco announced a Springpath-based offering.
The market is younger than that for all-flash arrays and shows strong growth prospects, witness IDC recording it grew 170.5 per cent to $356m from 2014 to 2015. It seems destined to be a billion dollar-plus/year market in 2017 at this rate.
There are two leading startups, with Nutanix thought to be ahead of SimpliVity, and they are competing with Dell, EMC-VMware, HPE, Lenovo and Cisco. Huawei has a presence along with numerous other startups (Atlantis, GridStore, Maxta, Pivot3, ScaleIO and more) and X-IO is joining in as well.
Close attention will be paid to Nutanix, which filed its S1 back in December last year, indicating it hoped for an early 2016 IPO. That has not happened.
The recent Pure Storage IPO has been followed by Pure's stock price declining, and it's thought that, in general, tech IPO prospects have dimmed in the last three to five months, with VCs telling their funded startups to control costs and concentrate on the revenue and profit potential for their technology.
We've pored over this updated S1 IPO doc and had a look at its revenue, net loss/profit numbers, and customer count growth, all of which look healthy. It shows that revenues have grown in the latest quarter while the net loss has declined, indicating costs are being controlled more tightly relative to revenues.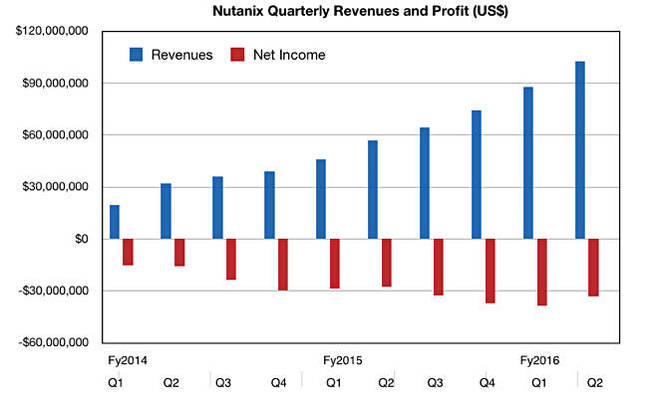 Nutanix net losses declined for two quarters in early fiscal 2015, but then rose again as the business grew its infrastructure and further developed its product. So the latest net loss decline needs to be followed by others, but it is showing the right direction.
The chart seems pretty similar to the equivalent one for Pure Storage, but with Nutanix having slightly lower losses: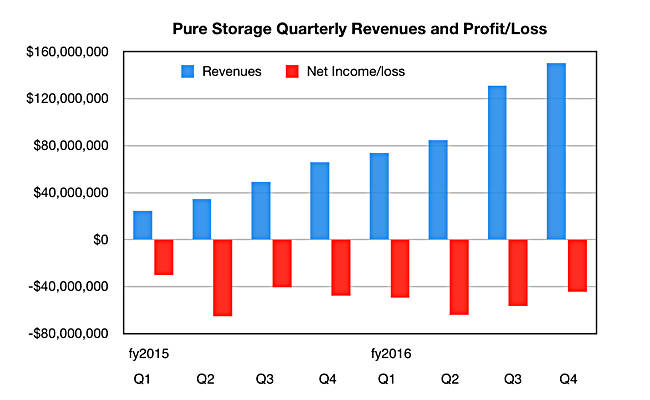 Nutanix's annual revenue growth also shows a good growth curve, with revenues growing faster than losses: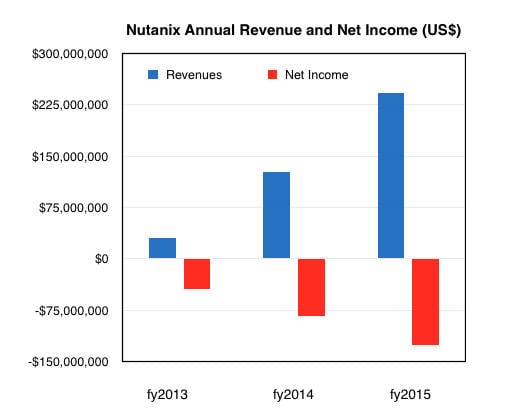 We charted customer acquisition figures, and they look healthy too: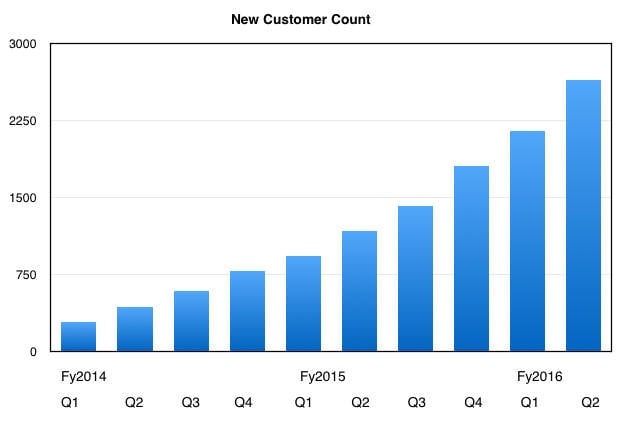 +Comment
As far as we can tell, these charts green-light Nutanix's IPO. Now, the investment bankers and VCs have to take the temperature of the financial markets to ensure they can pull off a successful IPO exit.
Will acquisitiveness push them into saying yes, or fear hold them back? Who the hell knows? We think it'll be a "yes." ®