Toshiba is busily upgrading its PC/workstation SSD line at the same time as it's scaling back its PC product activities.
Its Q300 and Q300 Pro consumer/gamer SSDs were announced in September last year. The Q300 was a TLC (3bits/cell) unit storing 120, 240, 480 or 960GB of data while the Q300 Pro used MLC (2 bits/cel) NANd and stored 128, 256 or 512GB of data. They used, we understand, 19nm NAND, and Tosh has now upgraded them to 15nm process technology, giving them both a capacity bump.
The TLC Q300 now stores 120, 240, 480, 960 or 1024GB of data, a trifling 6.7 per cent increase, while the Pro version goes up to 1TB as well, meaning a 100 per cent increase – now we're talking.
The random and sequential read/write performance numbers have not changed but the Q300 Pro's endurance has. Previously it supported 160TB written over its five-year warranted life time at the then maximum 512GB capacity. That shoots up to 640TB written for the new 1TB capacity model.
Here's a table of the basic speeds and feeds:

Green row for new models
The Q300 is for the PC disk replacement market, ditto the Q300 Pro, which is better suited for high-end PCs, meaning workstation and gamers' needs, according to Tosh. Both are shipping this month with purchase prices starting at a cheap £40 for a 120GB Q300 and £105 for a 256GB Q300 Pro.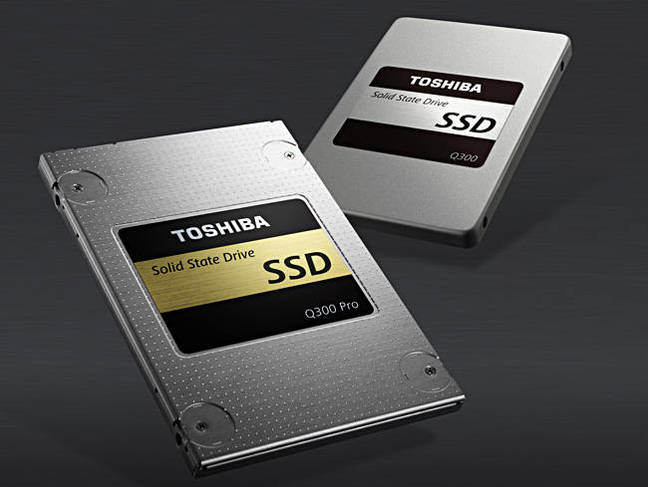 We expect the next Q300 iteration, if there is one, to involve 3D NAND with a potential capacity doubling. ®