Rackspace invites itself into your data centre
Offers OpenStack-in-a-box coming in the bit barn of your choice
---
Rackspace will bring its cloud to you: the company has revealed a new offering whereby it will pour OpenStack into a box and run it from its own data centres, a third party's bit barn or your own premises.
On-premises clouds are all the rage at present: Microsoft's AzureStack is in preview and is winning support from the likes of HP, Cisco's promising a cloud-like experience with its new HyperFlex, VMware's decided that the VxRail converged appliance is a better bet than a software-defined EVO:RAIL. And of course the likes of Nutanix and SimpliVity pride themselves on offering cloud-like usability and scalability with their hyperconverged appliances.
Rackspace's offering goes a little further because the company is happy to install and manage a rig wherever you choose to operate it, "From the floor tiles all the way up the service stack."
Rackspace is really a services company now: it's selling even this on-premises offering as a way to shift your compute budget into the "operational expenses" column.
The service is billed as offering the same experience as using Rackspace's own cloud, just without the latency and high telecoms bills if you choose to use it on-premises.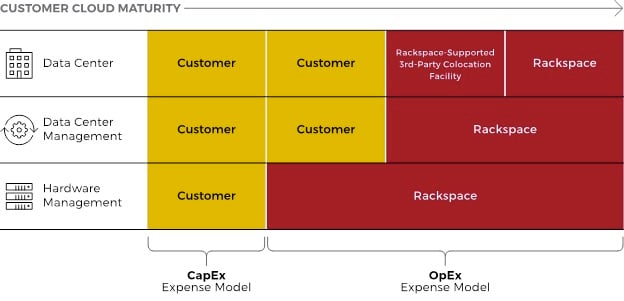 Rackspace's cloud maturity model
The company is also pointing out that if you go all-in with it for support you're spared the complexity of running and maintaining OpenStack, a sore point for the project that it's tried to address in the new Mitaka release. If Rackspace really can crack the "just give me the VMs I want" experience, and make scaling storage simple, it might be on to something here, especially for organisations that don't mind outsourcing a big chunk of their IT capability. ®