Bibliotheca Alexandrina buys a Huawei superdupercomputer
Flagship Egyptian library to get machine that's great for weather forecasts. Um, why?
Egypt's national library is buying a 118 teraflop supercomputer from Huawei capable of handling bioinformatics, data mining, physics simulation, weather forecast, drilling for oil and groundwater, and cloud computing – raising questions about what it will be used for.
The Bibliotheca Alexandrina is a grandiose Egyptian state project to have a library as famed as the original Library of Alexander.
It started off as a committee project in the University of Alexander in 1974, gained the then-Egyptian president Hosni Mubarak's backing, won UNESCO support in 1988, and snowballed onwards and upwards to its opening in 2002.
The building cost $220m, has space for eight million books, and has an 11-floor reading room.
We're told the site covers an area of 40,000 square metres, and only houses 600,000 works, including "large volumes of valuable books, records, scrolls, paintings, and images." (Do not utter the words "white elephant.")
It also maintains the single mirror and external backup of the Internet Archive. The building contains a planetarium, four museums, research centres and the massive reading room that tilts towards the sea.
The mind boggles as to why it should need a supercomputer, which is being built by the library, Huawei and Egypt's Ministry of Communication and Information Technology. You might think the library, which has more than enough space to house a supercomputer, is simply contributing space, and that the thing is actually being built by Huawei to a spec worked out with the ministry. We couldn't comment.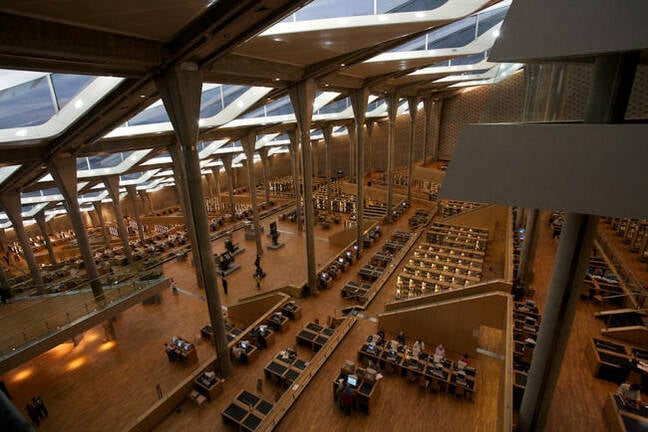 Bibliotheca Alexandrina reading room
We're minimally told the superdupercomputer features:
Clustered Huawei FusionServer X6800 servers
InfiniBand network
Ethernet ports
288 TB of storage capacity, expandable to 4.5 PB
The design is fully-redundant, and Huawei says its offering "required one-third fewer cabinets than that of competitors, and optimisations to CPU selections delivered seven per cent better overall system efficiency compared to the next-leading offering."
The company is steadily building up its supercomputer expertise.
The gushing press release says that, with the new supercomputer, "a new level of creativity will be inspired and new horizons are arising in the research domain."
Wonderful. Let's hope it's not a tera flop. ®