BUILD 2016 Microsoft showed off its HoloLens augmented reality headsets at its Build event last week, offering hands-on demonstrations and announcing the first shipments of the semi-public, $3,000 Developer Edition.
Press were given two hands-on opportunities. The first was a developer workshop showing a little of the coding experience, which starts in the Unity game development environment, continues in Visual Studio, and ends with deployment as a UWP (Universal Windows Platform) app to the HoloLens device for a sample of the augmented reality experience.
We saw how HoloLens can map the surrounding environment so that virtual objects can rest on, or bounce off, physical objects, and how you can manipulate virtual objects with gestures. We also experienced how HoloLens lets you walk around virtual objects and see them from all angles.
I attended a similar session at the 2015 Build, and noted substantial improvement in both the image quality and the size of the rectangular portal through which you see the augmented world (though it is still smaller than the ideal size). You can also now see the Windows 10 Start screen
Later I tried Microsoft's "Destination Mars", where you walk around parts of Mars examining rock formations, with commentary from a virtual Buzz Aldrin (the second person to walk on the Moon). The Mars experience, while impressive in its way, was less good than the developer session, possibly because of older prototype hardware.
Both sessions fell short though, in their failure to demonstrate the business potential of Microsoft's headset. This was especially true of the Mars event, which was really virtual rather than augmented reality; there was no interaction between the physical and virtual worlds. As a virtual reality headset, HoloLens is poor compared to the likes of Oculus Rift.
HoloLens is not primarily an entertainment device, though, despite the use of Unity (normally used for games) for development. It will be too expensive as well as too ungainly for gaming, though there will be some entertainment applications and this may become more important in later iterations of the product.
At Build, I met with founder Michael Hoffman and senior developer Caleb Cannon from Object Theory, a startup founded in 2015 to develop HoloLens applications. Hoffman was formerly a principal engineering lead at Microsoft, working on HoloLens projects.
"It is an enterprise device," said Hoffman. "There is clearly a gaming potential there but they don't want to put this out there as an Xbox extension, because then nobody will say, yes, we can use this in our conferences, in our warehouses, in our hospitals. It's wise to limit gaming early on."
Hoffman says he saw "a revolution coming" when on the team within Microsoft, which motivated him to start a new business. "I had the unfair advantage of being an insider, and had enough startup experience to be bold enough. I had to do it."
Object Theory is currently focusing mainly on Virtual Design and Construction. "We have a client in the architecture and construction space," says Hoffman. "We're focusing mainly on Virtual Design and Construction (VDC). We learned that the designs the engineers made aren't the ones the construction team uses, they make their own derived from them, with a lot more detail. There are a lot of error prone steps, and errors are very costly. The HoloLens makes it easy to have a conversation around something that's three dimensional.
"HoloLens has Wi-Fi, it can easily communicate with other HoloLenses, so teams can be anywhere and can have a shared experience, walk around a shared model and have conversations about it.
"Recently they had a giant piece of equipment arrive that was different to what they had specified. It would not fit in the room they had provided. They had to choose between ripping out a wall, or ripping up the foundation. The construction crew is there, the designers are back at the office, and they have to figure out the right choices quickly. With the HoloLens you can load those models and project it in the room to see what is actually there.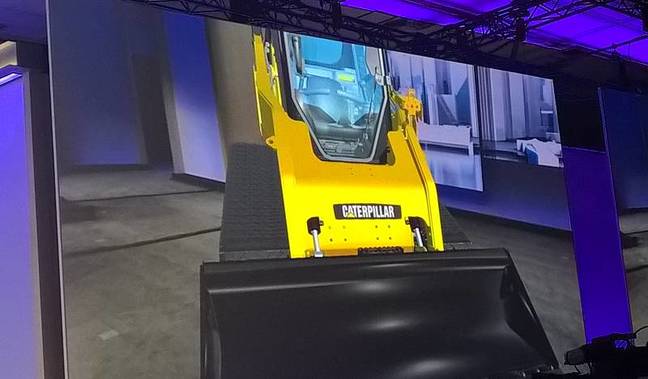 A virtual construction vehicle on stage at Build
"We haven't implemented everything yet but we can already load a model and see it either fishbowl-style or full scale, actually walk round it and understand it at full scale. They were more impressed with the full scale than with the model. It is really important to see things at full size and scale."
Of course HoloLens was also on display at the 2015 Build, but while in one sense progress seems slow, it is also true that the prototypes last year were obviously not ready, whereas this year they are much improved. It was the most compelling product on show at Build. Nor is it expensive, judging by the price of the developer kits. "Anyone we've talked to is not concerned about that price. If it solves a real business problem, who cares? It doesn't take much to justify it," Hoffman told me.®