This article is more than 1 year old
Cloudian's classier object storage management
Doesn't quite manage itself but does much more and gets Gartner stroke
Cloudian has lowered the management burden for its S3-compatible HyperStore object storage with automated this, predictive that, and dynamic, pro-active, non-disruptive other stuff.
Michael Tso, Cloudian CEO and cofounder, said in a piece of canned quotery: "HyperStore 6.0 automates the whole data management and protection process." Tso's point is that, "as enterprises reach petabyte-scale data levels, operational costs can quickly exceed capital costs. Not only can the physical storage become untenable, but also the resource cost to manage and protect the valuable business data" becomes untenable too.
The net effect, Cloudian claims, is that, "HyperStore 6.0 transforms the data centre for a fraction of the cost of other object storage offerings."
That's the big picture claim. In more detail the v 6.0 software release updates the existing v5.2 version and adds:
Better durability

Amazon S3 cross-region replication for disaster recovery
Proactive repair
Proactive auto-correct
Dynamic and automated object routing

Better operations management

Add nodes dynamically
Non-disruptive rolling upgrades
Automatic service recovery
Reduced operations management as node count grows

Better tuning

Smart storage analytics
Object locator
Manage clusters with drillable, visual management console
Amita Potnis, IDC Storage systems senior research analyst, has a canned quote saying: "With HyperStore 6.0, enterprises gain durability and automated operational management at scale to simplify and reduce their operating cost." She's on-board the hymn sheet and singing a song that says HyperStore v6 reduces your operations management as you grow nodes.
Gartner's March 31 Critical Capabilities for Object Storage report included Cloudian for the first time. We're told Cloudian achieved an overall use case product score of 3.98, within 2 per cent of the top score and among the top five of all vendors; so it was ranked fifth, as this chart shows.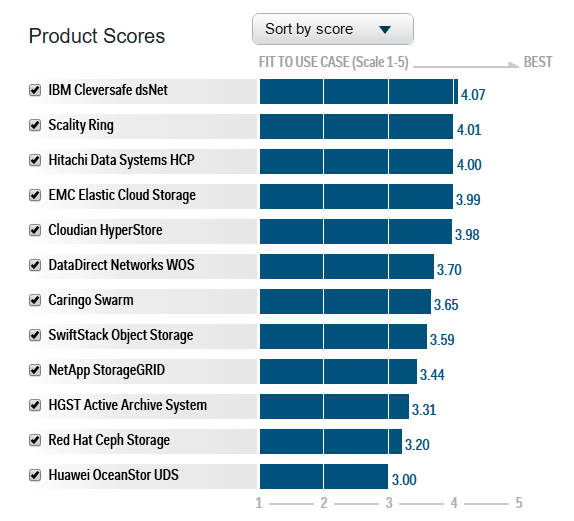 Source: Gartner Critical Capabilities for Object Storage
IBM Cleversafe is top, followed by Scality, HDS's HCP and then EMC's ECS, with Cloudian ahead of Data Direct, Caringo and others.
Cloudian tells us various other things about how well it does in Gartner's report but, without a sight of the report, we can't see what its relative status is.
For example, "The report rated HyperStore at 3.91 or better across all other use cases the report evaluated: analytics, archiving, backup, and content distribution." Well yes, and the other suppliers? These selective disclosures, no doubt encourage by Gartner licensing terms, are a pain in the collective ass. But we better be grateful for the crumbs we get from Gartner's table. And we are, we are.
We did, anonymously, get a copy of the report's key findings:

No surprises there, but good to see anyway.
HyperStore 6.0 will be generally available May 1 from Cloudian and its global ecosystem partners, and is a free upgrade to existing customers. ®