Symantec.cloud is in the middle of rebuilding its portal this lunchtime following a prolonged outage spanning more than 24 hours.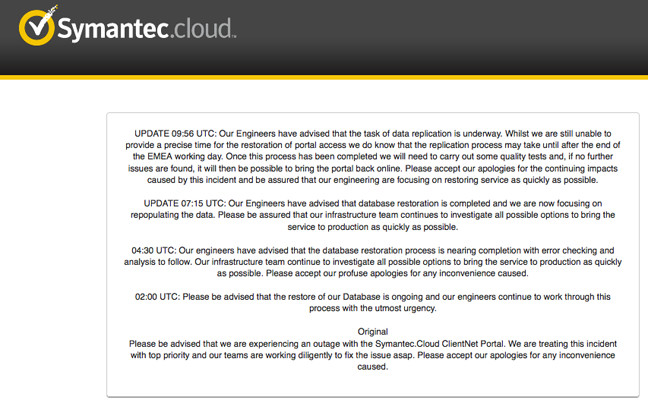 The snafu stemmed from a database crash. Problems first surfaced at 1000 UTC (1100 BST) on Monday and dragged on until lunchtime on Tuesday, as detailed in a series of updates to Symantec.cloud's client portal (extract below) from Tuesday breakfasttime.
Our engineers have advised that the database restoration process is nearing completion with error checking and analysis to follow. Our infrastructure team continue to investigate all possible options to bring the service to production as quickly as possible. Please accept our profuse apologies for any inconvenience caused.
The glitch affected access to the portal and therefore affected customers' ability to manage their accounts. El Reg understands that the message filtering service offered by Symantec.cloud (formerly MessageLabs) nonetheless operated as normal.
"Without this you cannot register/remove email addresses or perform any changes," Jon, one of two Reg readers who notified us about issues, commented. "Apparently the $6bn company only has one copy of their Portal database."
El Reg is yet to receive a response to request for comment on the issue from Symantec. ®