Surrey and Sussex Police have received almost £250k of Police Innovation Fund cash to acquire four UAVs as part of the "largest trial of police drones in England and Wales".
The forces will augment their existing capability of one Aeryon SkyRanger - operating at Gatwick since 2014 - with four more examples of the Canadian-built drone.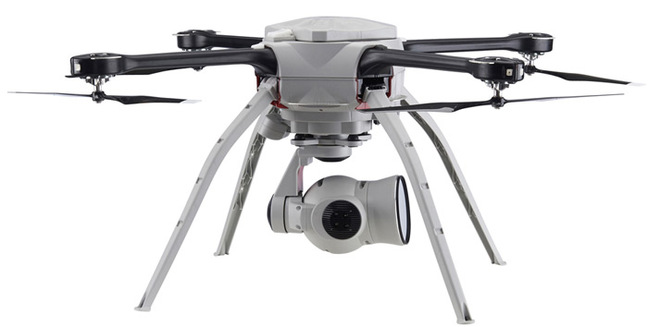 The Aeryon SkyRanger. Pic: Aeryon
The quintet of vehicles will be deployed to Eastbourne Neighbourhood Response Team, Guildford Targeted Patrol Team, Gatwick Armed Response Vehicles, Shoreham Forensic Collision Investigation and Reconstruction Unit, and Lewes Operations Command Search and Operations Planning, with thirty-eight operators trained to "Civil Aviation Authority accredited standards" available to fly the vehicles, Police Oracle explains (registration required).
Assistant Chief Constable Steve Barry, head of Surrey and Sussex Police Operations, assured: "Our drone operations will be overt, open and transparent, and we will use all outlets available to us to ensure the public are informed of our drone use."
He added: "We have consulted extensively with the Information Commissioners Office (ICO) and the Office of Surveillance Commissioners (OSC), both of whom are satisfied with the approach we have taken over privacy and data protection. The OSC recently saw the Gatwick drone being operated and was impressed with our operational protocols."
To date, the Gatwick SkyRanger has been involved in "missing person searches, protester responses, airport security and crash scene investigations". ®