This article is more than 1 year old
NV...Me too, says Micron. Fancy a faster-than-SAS flash drive?
Enters the NVMe SSD space
Micron has entered the enterprise NVMe flash drive space with a pair of products spanning a range of form factors and capacities.
These NVMe SSDs complement Micron's existing S600DC SAS SSDs, which are now shipping in volume. The 7100 is the smaller product and the 9100 its big brother. Both have a PCIe gen 3 NVMe interface, which is faster than the 12 Gbit/s SAS interface used by the S600DC flash drives.
Micron is not revealing the process size or NAND type – although we understand they both use 16nm planar MLC flash, like the S600DCs.
The 7100 comes in either M.2 (400GB - 960GB capacity range) or U.2 form factors (400GB - 1.92TB capacity range.)
You can choose from endurance options matched to your read-centric (7100 PRO) or mixed-use (7100 MAX) workloads. No performance differences or endurance numbers are supplied in the product brief (PDF)
Micron says the 7100 provides the speed and efficiency of NVMe with the lower cost and lower power of SATA SSDs. It is targeted at Big Data, hyper-converged, Open Compute and virtualised workloads with hyperscale applications a secondary target.

Micron 7100 and 9100 performance summary with S600DC SSDs for comparison. Click to embiggen.
The 9100 capacity range is from 800GB up to 3.2GB, less than the 3.84GB maximum of the S600DC product. It comes as either a HHHL PCIe card or in a 2.5-inch U.2 form factor.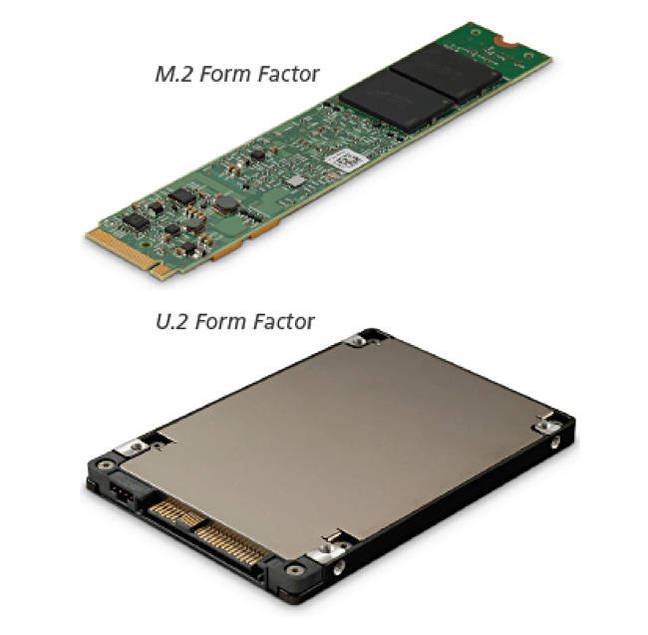 Micron 7100 drives
Latency-wise, the 7100 has 120μs/40μs read/write numbers with the 9100 having 120μs/30μs ones.
The 7100 is moderately faster than the SAS drives whereas the 9100 is significantly faster. The speeds in the table are maximums, with the actual numbers varying according to the drive's capacities and rising as the capacity rises.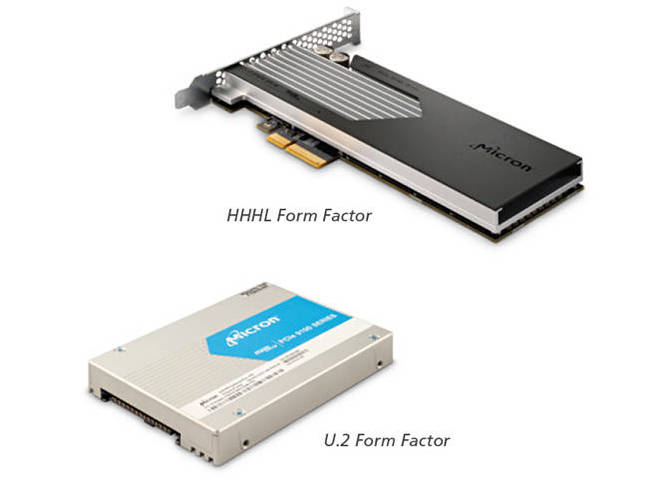 Micron 9100 drives
Micron says the 9100 is best fitted for content delivery, high-performance computing and database workloads – with Big Data and hyperscale applications following close behind.
With these NVMe products in place, Micron now has an enterprise product platform ready to take 3D NAND as well as 3D XPoint down the road. The S600DCs are OEMed by Seagate so it might be thought likely Seagate could take the 7100 and 9100 products as well.
We understand the 7100 and 9100 drives are sampling now with general availability to follow later in the year. ®