FalconStor has added predictive analytics to its FreeStor storage software.
This software-only storage, sold independently of hardware, provides storage services by abstracting underlying heterogeneous storage products. It operates in the data path, like IBM's SAN Volume Controller (SVC), and virtualises the array hardware back end – be it from multiple vendors such as EMC, IBM, HPE or other suppliers – managing their capacity as the topology diagram below shows.
This is irrespective of the storage medium, whether it's flash, diskor tape and irrespective of whether it's on-premises or in the cloud.
FalconStor says it "gives customers the power to seamlessly migrate, recover, protect and deduplicate data – on or off the cloud – without tying their business to specific hardware, networks or protocols."
Some 170 customers bought FreeStor in 2015 and they have more than 12PB of capacity managed through it. These include enterprises such as Sunrise, MSPs like Telefonica and Ricoh and OEMs such as Kaminario, X-IO Technologies and others.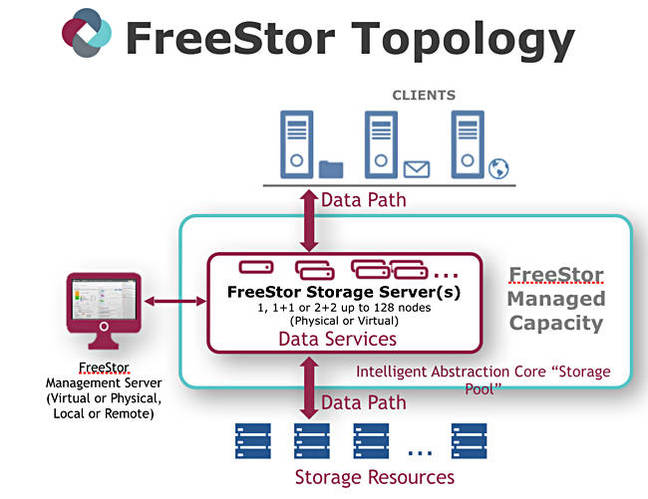 The added features in the latest release are:
Centralised monitoring, analytics, reporting and provisioning across multiple storage servers
New management GUI which simplifies storage management and improves usability
 Historical and real-time trends and reports for performance, health and inventory
Analytics for real-time insights
Real-time performance, health and inventory monitoring end to end; from connected hosts, to virtual LUNs, to the storage pool to physical disks
Service-level monitoring through both proactive and reactive smart rules and alerts
Personalised, customisable dashboards for flexibility for storage administrators
Native iPhone/Android applications for anytime and anywhere monitoring
OpenStack Cinder Driver
 SAP Hana certification
The data services FreeStor provides work across the underlying storage resources and so the Intelligent Predictive Analytics (IPA) technology is not limited to operating on a single array, like in-array analytics.
IPA provides "real-time and historical analytics across heterogeneous storage systems to better manage capacity, performance and availability." Users can decide what to do about their storage, with their actions "based on real-time information … from a single pane of glass regardless of storage vendor or location."
Information can be presented at a global level or granular levels with user-definable views, reports and rules. There are REST APIs so the analytics data can be delivered where it's needed programmatically.
Here's an IPA screenshot showing its storage capacity trend chart predicting that the customer will run out of space some six months into the future: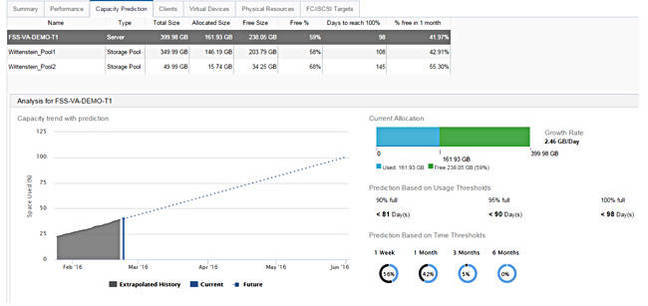 FreeStor analytics screenshot
FalconStor has provided a feature comparison table for FreeStor and competing products from DataCore, EMC, Formation Data Systems, Hedvig, IBM, Nexenta and Veeam: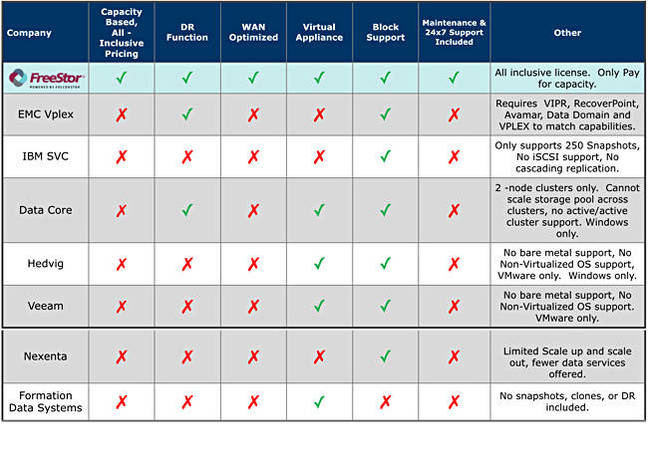 It's one of those tables where the providing supplier greenlights all the boxes and no one else does, but it's a starting point for making comparisons.
FalconStor got a nice canned quote from Scott Harris, Egenera's VP for services for this release of its software: "FreeStor is the first real entry, in my opinion, into the service provider realm … FreeStor is ... the only DR solution we offer." ®