Seagate revenue numbers rain on cloud after market misses
$100m revenue miss alert – could signal loss
+Comment Seagate has issued an early warning that its third fy2016 quarter revenue will be off by $100m from its forecast of $2.7bn.
The company expects to report revenue of approximately $2.6bn and non-GAAP gross margin of approximately 23 per cent, for the quarter which ended April 1 – no, this is not a late April Fool joke. The previous gross margin forecast was 25.6 per cent. It thinks it will report 39 million hard drive shipments – a 40 per cent market share.
The year-ago quarter saw revenues of $3.3bn, meaning a 21.2 per cent fall. The second fiscal 2016 quarter's revenues were $2.98bn with a profit of $165m. There has to be the possibility that Seagate could make a loss in the third quarter.
It says the shortfall was driven primarily by:
Reduced demand for traditional mission-critical HDD enterprise products,
Reduced demand for the company's systems and silicon products,
Reduced demand for desktop client products primarily in China,
Seagate's decision to not aggressively participate in the low capacity notebook market.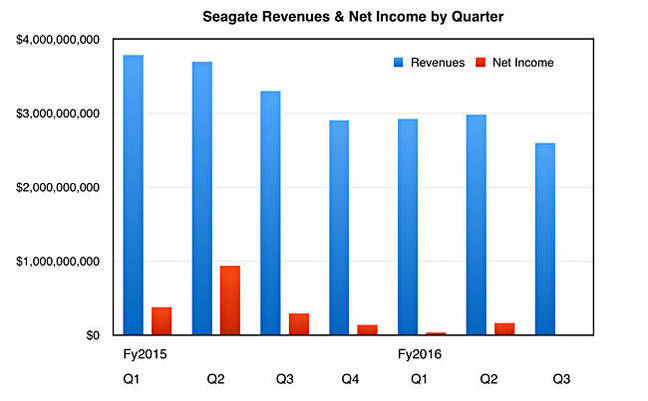 The revenue/net income chart above shows some decline in revenues since the start of fy2015, and a rise and then fall in profits. Seagate has been saying for some time that the rise in unstructured data will trigger a rise in cloud-style nearline data storage, but this has failed to surface, from both a revenue (see chart above) and unit-ship point of view:

Unit shipments per quarter have trended down since the second 2013 quarter.
Also, while SSD shipments have been rising, witness Dell, EMC, HDS, HPE, IBM, NetApp, and Pure Storage results, Seagate, with its Nytro and Pulsar lines of flash cards and drives, has failed to capitalise on this. WDC has been far more aggressive, bulking up its HGST subsidiary with a string of flash-related acquisitions and now buying SanDisk.
Seagate's flash strategy, in terms of product revenues and market success, has been a failure.
Turing back to disk drives, it read PC demand okay, except for China. Enterprise mission-crit drive demand could have been down due to flash substitution and/or reduced demand with no NAND substitution.
There was stronger than expected demand for the company's 8TB nearline products, reflecting the Company's belief that an increasing level of enterprise applications are shifting to cloud environments. That was good news after the previous quarter's 8TB drive mis-steps.
Steve Luczo, Chairman and CEO, said: "We are disappointed that we did not anticipate the weaker demand in the March quarter. There are many complex issues impacting the traditional go to market channels in our market, which are reducing our forecast visibility."
Well, yes, but... he went on: "Despite the disruption of the shifts in our traditional mission-critical HDD business in the near term, we believe the long term benefit of cloud architectures for end users, and the related need for very high capacity drives, is a net positive for Seagate and the HDD industry."
Well, yes, again, we'll see if that long-term benefit ever happens. You were late to helium-filled drive technology, and have mis-forecast before – so why should this forecast be right?
There's no quick fix for the situation either, with Luczo saying: "The Company is in the process of prioritising our strategic positioning, manufacturing footprint and operating expense investments to achieve the appropriate level of normalised earnings. We anticipate that these actions will be implemented over the next several quarters."
Stifel MD Aaron Rakers told his subscribers: "We maintain our Hold rating, and expect better results out of Western Digital." He said; "Seagate saw weaker-than-expected results in its Cloud Systems and Silicon Solutions (flash/SSDs) segment (i.e., Xyratex, Dot Hill, and LSI Flash solutions)."
There was flash cannibalisation of notebook disk drive shipments, according to Rakers. The mission-crit drive shortfall was down to weak OEM shipments, with a ~500,000 drive unit miss. Possibly Seagate OEMs Dell and HPE will report adverse results for the quarter in this area.
Some exec reshuffles have taken place at Seagate after previous mis-steps. Will there be more now, or will the board take the view that something more drastic is required if Seagate is to regain its previous level of success? ®