This article is more than 1 year old
Dell slips Scality's RING onto its OEM finger
Offers file/object storage server running the software
Dell has upgraded its nine month old Scality reselling deal, offering the SD7000-S file and object storage server running OEM'd Scality RING software.
This follows on from the HPE-Scality deal with HPE investing $10m in Scality and selling its RING software with its Apollo 4000 and ProLiant servers.
The purpose-built and jointly-engineered SD7000-S has two server nodes, with two Xeon E5-2650 v3 processors (2.4 GHz/10 cores) per node, and a 10GbitE dual port network interface card. There are 90 hot-plug, 8TB, 3.5-inch disk drives in the 4U enclosure (688TB raw), meaning a rack can hold 6.9PB of raw storage (5.52PB usable as 1.25TB of raw Scality capacity provides 1TB usable).
A Scality RING can be deployed with three SD7000-S storage servers. The software provides multi-petabyte storage for unstructured data with a single distributed namespace across a single or multiple sites. It has access for file and object storage with optional OpenStack APIs. The system is designed for 100 per cent uptime and has near linear performance scaling.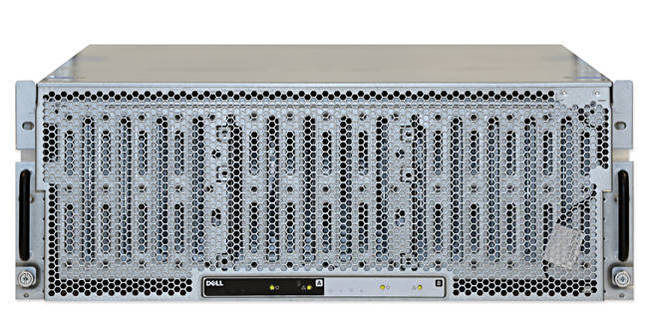 Dell SD7000-S
Dell Storage executive director Travis Vigil said: "We are on the forefront of software-defined trend and our partner-based strategy has been very successful."
It is quite typical of Dell to divide a market, such as object storage, into a grid, perhaps delineated by scale and functionality, and have specific offerings in each grid box to meet specific market needs. This particular need includes customers liking the idea of software-defined, hardware-agnostic storage, but also liking to buy it as an integrated hardware-software appliance with one service and a support throat to choke.
The enhanced Dell-Scality relationship comes with both parties knowing that the EMC acquisition will bring Dell the Atmos, Centera and EC2 object storage offerings and, we would think, confidence on both sides that this OEM arrangement will continue after the acquisition closes.
Get a data sheet here. ®