Comment Gartner's gurus have ranked the top twelve object storage suppliers in a Critical Capabilities report, with Cleversafe at the top and Huawei last.
The report states: "Object storage is pervasive as the underlying platform for cloud applications that we consume in our personal lives, such as content streaming, photo sharing and file collaboration services. The degree of awareness and the level of adoption of object storage are less in the enterprise, but they continue to grow."
The authors compare 12 object storage products against seven critical capabilities in use cases relevant to infrastructure and operations leaders. The use cases are analytics, archiving, backup, cloud storage, and content distribution.
The capabilities are capacity, storage efficiency, interoperability, manageability, performance, resilience and security and multi-tenancy.
The vendors are given scores between 1 and 5 for each capability:
IBM Cleversafe dsNet
Scality RING
HDS HCP
EMC ECS
Cloudian HyperStore
DDN WOS
Caringo Swarm
SwiftStack Object Storage
NetApp StorageGRID
HGST Active Archive System
Red Hat Ceph
Huawei OceanStor UDS
There are various charts for specific object storage use cases, such as analytics, and an overall chart, which we have reproduced here: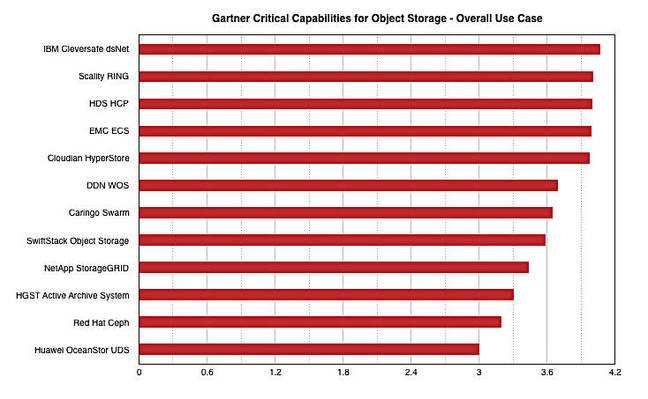 The report identifies weaknesses/challenges for the vendors, such as:
Caringo Swarm offers erasure coding and replication with its Elastic Content Protection features. There is no support for extending data to other environments, such as tape or tiering to public cloud storage providers as part of a tiered architecture.
Cloudian claims 100 per cent protocol compatibility with Amazon S3. It is not 100 per cent compatible; however, HyperStore is closely compatible and attempts to support large portions of the S3 API. (It does not support features such as bucket notifications.)
DDN WOS doesn't implement authentication or encryption through its native REST API; however, it allows access to any calling application, if it knows a valid object identification. WOS assumes that data is properly secured if object IDs are hard to guess, but this is not sufficient. WOS does not support named keys for objects stored through its native REST interface, requiring applications to persist an object identification returned to the client to subsequently perform operations on files. This is particularly challenging with mobile applications.
EMC ECS hedges between the old and the new, rather than definitively focusing on the current or the future. Moreover, not all ECS APIs support the same features, such as server-side encryption and governance. The result is that many of the features attributed to the ECS platform are supported only under certain conditions. There's also little interoperability between the APIs, and migration between them requires expensive professional services.
The HGST Active Archive System product lacks several key features, including replication, WORM, and support for file and non-S3 interfaces. Moreover, the lack of a software-only procurement model and limited independent software vendor (ISV) integration can limit its appeal across a broad set of use cases and customer segments. The PB range starting size and high acquisition price of the Active Archive System create a high barrier for organizations that want to test the product at smaller capacities.*
HDS HCP's erasure coding is fixed, it isn't user-configurable and it can't span multiple locations. Customers that need erasure coding and cloud tiering have the option of paying for the higher-priced active license, or using the lower-priced economy and extended licensing options, all of which still include a cost for managing the data in the public cloud.
Huawei's product can only be deployed as a packaged appliance that is sold by Huawei. It does not offer native encryption support and it doesn't support WORM or other compliance-related features. Although Huawei has achieved robust revenue growth in the Asia/Pacific (APAC) region and Europe, its presence in the US continues to be weak, due to political challenges it has been unable to overcome.
Cleversafe dsNet supports the Amazon S3 and OpenStack Swift APIs; however, native Network File System (NFS) support is lacking. Cleversafe's acquisition by IBM bears watching, because this could affect future development for enterprise customers.
NetApp's StorageGRID object versioning is a work in progress and an area that needs improvement. Updated objects are managed as new objects with StorageGRID, and require separate retention policy and management. Beyond its virtual appliance, NetApp offers limited options for software-based deployments, due to the absence of reference architectures with third-party server OEMs.
Ceph Storage has basic multitenant capabilities and relies on native file system encryption, rather than server-side encryption. CephFS, the Ceph Storage file system, needs maturing, and it's not ready for production. References indicated difficulty in managing, diagnosing and troubleshooting the Ceph Storage cluster when it is unhealthy, leading to longer problem resolution times.
Scality's S3 compatibility is immature, compared with other object storage vendors, and it does not support significant aspects of the S3 protocol, such as object versioning, bucket versioning, life cycle policies, server-side encryption, cross-site replication and event notification. Scality's native REST interface uses no security mechanisms for data-in-motion and relies on customers to secure the communication. Customer references reported that Scality's management and reporting capabilities are in need of improvement.
SwiftStack's product lacks support for native encryption capabilities. End-user organizations need to work closely with the OEMs to optimize and tune the hardware to extract optimal performance from OpenStack Swift, particularly for small file/object environments.
Check out a copy of the report here. ®
* The latest HGST entry-level SA1000 appears to be a response to this issue.