Delphix appoints new CEO – but hasn't filled vacant CTO spot
Founding chief exec promoted upstairs to exec chair
---
Structured data copy virtualising startup Delphix has appointed Chris Cook as president and CEO, with founding CEO Jedidiah Yueh become executive chairman of the board. Why?
Cook has been president and COO of New Relic since September 2011, joining from CA where he held exec-level positions since 2005. He was a sales VP at Quest Software before that.
Delphix tells us it has been growing fast:
Increased revenue by more than 70 per cent year-on-year in its most recent fiscal year
New customer acquisition increased by 66 per cent year-on-year with more than 30 per cent of the Global 500 as customers across all major industries
More than 400 employees, and customers in over 30 countries on all continents
V5.0 of its flagship product added extended masking for sensitive data plus support for IBM DB2 databases and multi-node Oracle EBS deployments
Yueh's canned statement indicated Delphix's growth hasn't been fast enough: "Although we've grown quickly over the last seven years, we've only scratched the surface of the opportunity. Continuing to scale at this level really becomes a matter of talent. Over the last few decades, Chris Cook has established a reputation as one of the top operating executives in the software industry, and we're looking forward to having him lead our team."
Two board members, Asheem Chandna and Chris Schaepe, partners at Greylock Partners and Lightspeed Venture Partners, respectively, also had a canned quote: "Delphix has established itself as the market leader in data virtualization. Chris Cook is a world-class leader and brings over two decades of enterprise experience to Delphix. We are delighted to welcome Chris to the company and look forward to seeing Delphix scale significantly under his leadership."
Translation: Delphix's investors think it hasn't grown enough, and can't, unless there is a CEO change.
Also, Cook helped scale software analytics startup New Relic's operations over four years to its IPO in 2014.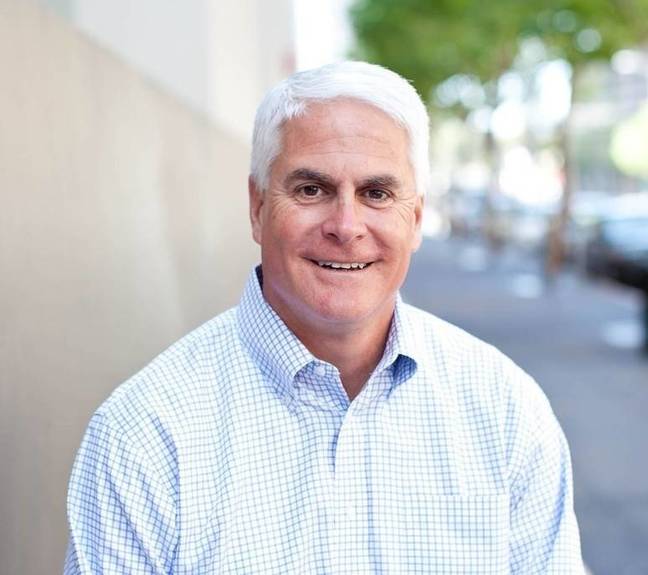 Delphix CEO and president Chris Cook.
His canned quote read: "When you walk into Delphix, you see the customer logos on the wall – a who's who list of companies that would be the envy of any enterprise software company at this stage. But when you peek under the covers and see the renewal and expansion rates – that's when you really see the power of data virtualisation and the potential for Delphix to be a very large company."
Often a founding CEO becomes the CTO of the company they founded; not in this case. Adam Leventhal was Delphix CTO until he left in February this year, and no CTO is currently listed at Delphix.
The company, founded in 2008, has taken in $119.5m in VC funding with the last round being $75m in 2015. As exec chairman, Yueh will have a hand on Cook's shoulder as he spends the money in scaling Delphix's operations. It wouldn't be surprising for Delphix to substantially scale up its sales and marketing organisations and broaden its sales funnel substantially.
Maybe there could be an IPO in 2018, or earlier if the company hits a $100m run rate before then. ®