This article is more than 1 year old
Obama London visit prompts drone no-fly zone
Aircraft grounded as Prez meets Queen
The Secretary of State for Transport has imposed flight restrictions over London for US president Barack Obama's forthcoming visit to the capital, meaning aircraft including "any small balloon, any kite weighing not more than two kilograms, any small unmanned aircraft and any parachute including a parascending parachute" are banned from large swathes of airspace below 2,500ft.
There are full details here on the restrictions here (PDF). They begin on Thursday evening and end on Sunday morning, the exact hours varying for three defined zones.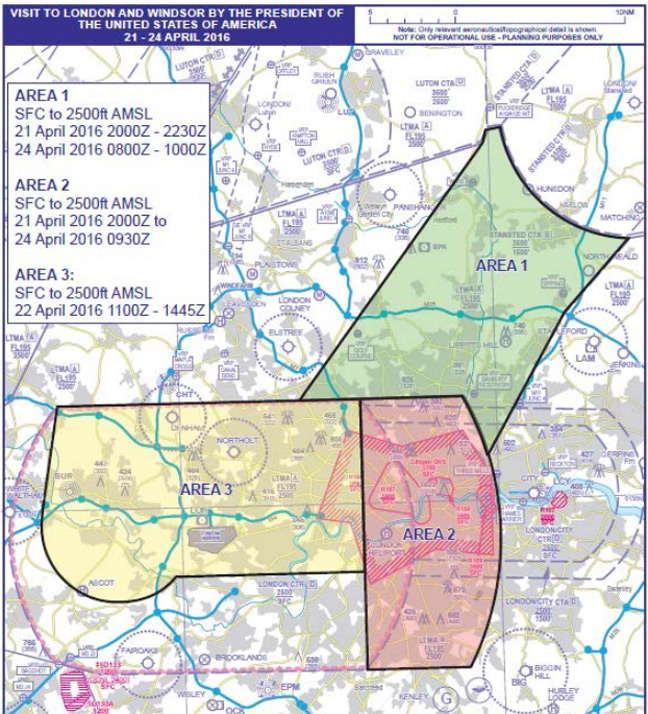 On Friday, for example, Obama will enjoy luncheon with Her Maj Liz II in Windsor, so between 11:00 and 14:45 GMT, local drone owners are strongly advised not to violate "AREA 3".
The no-fly announcement comes as cops and the Civil Aviation Authority (CAA) continue to investigate the alleged collision last Sunday between a UAV and a British Airways A320, as the Airbus was approaching Heathrow Airport.
Aircraft operating from Heathrow, Stansted or London City airports are exempt from this week's flight restrictions, and should enjoy drone-free operations while the Obamas enjoy the Queen's hospitality. ®