New data from the Australian Bureau of Statistics (ABS) asserts that tech support scams have become the most prevalent way to defraud the nation's residents, 113,000 of whom responded to such scams over a year.
The Bureau's data is derived from interviews conducted for its 2014-15 Multipurpose Household Survey, so the figure of 113,000 is an extrapolation, not a certainty and describes events in the year before the interviews were conducted.
The data explains why these scams run: fake lotteries were the most-encountered scam, experienced by over 30 per cent of the populace. 29.1 per cent of people experienced tech support scams, but the response number of 113,000 greatly exceeds the 46,200 who fell for fake lotteries.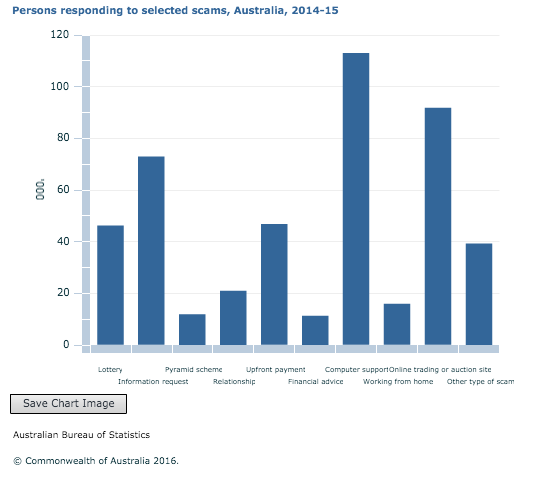 Persons responding to selected scams, Australia, 2014-15
The new data on fraud and scams also reveals that one million Australians suffered payment card fraud in a year. Here's the ABS' summary of who's getting had:
Over half (53%) of persons who experienced card fraud discovered the fraud themselves. Of those who were informed by someone else (47% or 520,300), 462,300 were informed by a bank or financial institution, 42,000 by a credit card company, and 19,400 by police, consumer affairs/ombudsman or other agency.
Also of note is the table below, showing that the wealthy are more likely to suffer card fraud than the impecunious. Of course the wealthy are more likely to have credit cards too.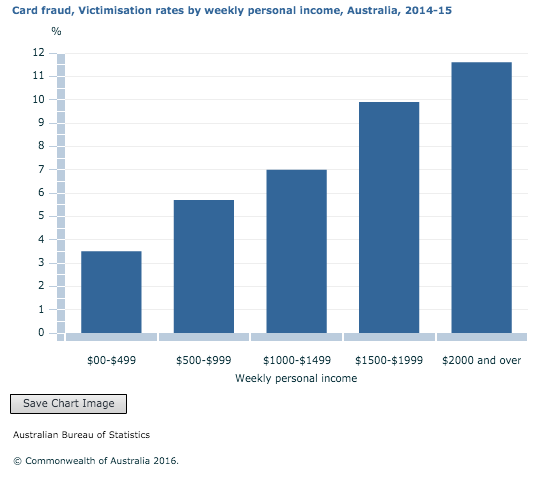 Card fraud, Victimisation rates by weekly personal income, Australia, 2014-15
All that fraud adds up: the ABS says card fraud alone clocked up AU$2.1 billion during 2014-15. That's double the $1 billion counted in 2010-11. Which rather gets us wondering whether PCI-DSS is helping things at all.
But we digress: identity fraud's also covered in the release and the bad news is it's even more prevalent than tech support scams: 126,300 people have reportedly fallen victim.
The Bureau doesn't explain how the different frauds it records are perpetrated – that's beyond the scope of its study. But clearly the prevalence of tech support scams shows there are plenty of people being popped online, albeit after an initial approach by voice.
Technology, it's evil!
The full data dump , Personal Fraud, Australia (cat. no. 4528.0), is yours for the perusal ). ®
Similar topics