This article is more than 1 year old
WD rust-proofs spinners with Gold offering
Data centre nearline disk drive brand emerges with some HGST tech
WD has set up a new data centre nearline disk drive brand, Gold, with three drive capacities matching and topping the Re brand's capacities.
The spinning rust folk have released 4, 6 and 8TB, 3.5-inch Gold drives with a mix of technologies.
The 8TB Gold drive is a helium-filled drive for example, while other two are air-filled, suggesting that HGST tech has been used and that the Gold line represents one of the first WD-HGST technology integration exercises.
WD is not revealing the areal densities of the new drives nor the platter counts. It does tell us the drives have a 128MB cache, 6Gbit/s SATA interface, spin at 7,200rpm and support 550TB of drive writes/year over their five year warranty period. The 8TB one has a 2.5 million hour MTBF rating, while the others don't – confirming that this is not a unified range in the technology sense.
It tells us the new drives have:
Up to 15 per cent more power efficiency that the 4TB and 6TB Re drives
Up to 18 per cent sequential performance improvement over the Re 4TB
Up to 30 per cent improvement in random write performance Re 6TB disks with write data caching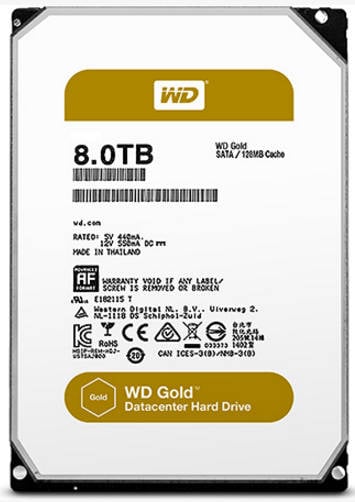 WDC says these are next-generation drives, which could imply an areal density increase. The 4TB Re is, we think, a 4 x 1TB platter drive, with the 6TB re being a 5 x 1.2TB platter design. HGST's 8TB Ultrastar helium-filled drive has seven 1.142TB platters (664Gbit/in2) and we'd assume the 8TB Gold copies this design.
There is a 24/7 premium support line for WD Gold customers. which can be reached at (855) 559-3733; International: +80055593733.
Anandtech, not WD, tells us that the 4TB Gold drive costs $309, the 6TB one $499, and the 8TB unit $629. ®