This article is more than 1 year old
Qualcomm channels Star Trek's Scotty as it faces a mobe chip wreck
CEO assumes major customer (cough, Apple) may buy fewer Qualy modem chips
Analysis Mobile chip designer Qualcomm typically channels Star Trek's Montgomery Scott, the chief engineer who under-promises to appear a miracle worker when he eventually delivers.
The California-based biz follows the Scotty playbook by the letter. Just like the Enterprise's engineering guru would suck his teeth, cock his head, say it'll take two days to repair a broken ship, and yet save the day in just 10 minutes, Qualcomm does the same with its estimates to investors.
Promise low, deliver high; Qualcomm is usually conservative with its expectations to cushion any bad news. The ruse is no longer holding up.
On Wednesday, the Snapdragon architects published their sales and profit figures for their second quarter of their 2016 financial year [PDF]. The quarter ended on March 27, and here's the summary:
Revenues: $5.6bn (£3.9bn), down 19 per cent on the year-ago period, and down four per cent sequentially. In late January, Qualcomm estimated its revenues for the quarter would be between $4.9bn and $5.7bn. Analysts expected $5.34bn.
Net income: $1.2bn (£840m), up 11 per cent year-on-year, and down 22 per cent sequentially.
Diluted earnings per share: $0.78, up 24 per cent on Q2 last year, and down 21 per cent sequentially. Non-GAAP EPS is $1.04, down 26 per cent on last year. Qualcomm expected non-GAAP EPS to be between $0.90 and $1.00. Analysts estimated a non-GAAP $0.96.
So sales are down but better than investors expected, profit is up, EPS beat expectations, and yet QCOM shares are down 3.24 per cent in after-hours trading to $52.09 apiece. What went wrong?
Qualcomm estimated that, over the quarter, it would ship between 175 million and 195 million Snapdragon system-on-chips – the brains in various mid-to-high-end Android handhelds among other things. It actually shipped a middling 189 million. This time last year, however, it shipped 233 million. In the next quarter, it again thinks it will ship between 175 million and 195 million SoCs, which is lower than Q3 2015's 225 million.
Demand for gear containing Qualcomm's chips is shrinking, and even by lowballing its estimates, it can't hide this fact. Sales of devices with Qualcomm technology inside them fell eight per cent, and volumes fell 13 per cent, year on year. The Snapdragon 820 in the Samsung's Galaxy S7 helped keep the Q2 numbers looking as healthy as they are.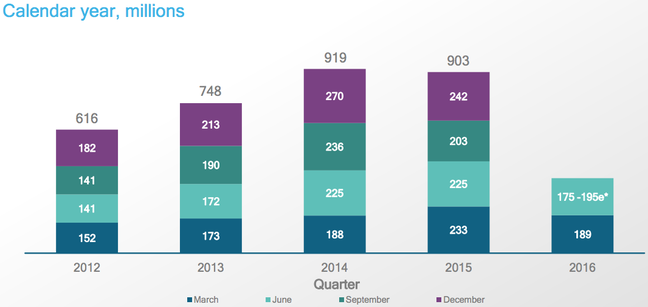 Snapdragon shipments per quarter (click to enlarge)
The market sees the end of a growth period, people are getting bored with smartphones, and investors are worried the only way is down for a while. Obviously, it's not a terrible quarter for Qualcomm, and it looks all right on the face of it, but it's not exactly smelling of roses.
Apple danger
Qualcomm said its estimates include the assumption that buyers of its chips will find second sources for their components, meaning they won't be buying just Qualy-designed radio modems. Qualcomm CEO Steven Mollenkopf said in a conference call he was "assuming" that a major customer would use alternative chips as a second source. "Even with that, we are comfortable with our margin targets and our improving financials in the chip business in the second half," he added.
It's assumed this major customer is Apple, and that it is eying up modem chips from Intel for next-generation iPhones.
4G/LTE will save the day..?
Qualcomm expects third-quarter revenues of $5.2bn to $6bn (down 11 per cent to up three per cent year-on-year) and an EPS of $0.90 to $1.00 (down 9 per cent to up 1 per cent). Analysts expect $5.56bn and $1.02, ie: down or flat.
Qualcomm is holding out for an explosion in mobile broadband, which will hopefully hike demand for its chipsets. "We continue to see growth in global 3G/4G device shipments," said QCOM president Derek Aberle in a conference call.
"LTE penetration is only approximately 16 per cent of cellular connections globally, and cumulative smartphone unit shipments are forecast to be more than 8.7 billion from 2016 through 2020 according to GSM Intelligence and Gartner.
"The strong 4G ramp in China continues, as each of the operators pursues aggressive subscriber growth targets with their 4G-plus service offerings, and design momentum is moving rapidly towards all-mode devices across China.
"The strength in China, however, is being offset by a reduction in growth rates in other emerging regions, which we believe is attributable to macroeconomic headwinds. In addition, our forecast for premium-tier device shipments is down slightly versus our prior view, driven by slower than expected upgrades within one of the premium-tier ecosystems."
Aberle also said Qualcomm had noticed weaknesses in the market. "We are seeing some softness in the premium tier, some puts and takes, some other weakness in emerging regions, but actually improvement in China. China continues to be quite strong," he added.
Finally, Qualcomm and LG Electronics have settled their differences over Qualy's licensing of patented technologies covering 3G WCDMA and CDMA2000, and 4G LTE among other designs. No details of the pact were revealed, other than that "LGE will continue to benefit from access to Qualcomm's broad portfolio of patented tech."
Qualcomm also announced a 3G/4G patent licensing deal with Hisense, a China-based hardware maker. Despite royally pissing-off the Chinese authorities with its patent licensing in the Middle Kingdom, requiring it to cough up about $1bn in penalties, Qualcomm is full-steam ahead in the Asian superpower – and God knows it needs that growth. ®