The shock death yesterday of Prince at the age of 57 prompted immediate worldwide reaction which bore witness both to the man's undeniable talent and influence, and the internet age's obsession with celebrity.
The newsgasmic blanket coverage...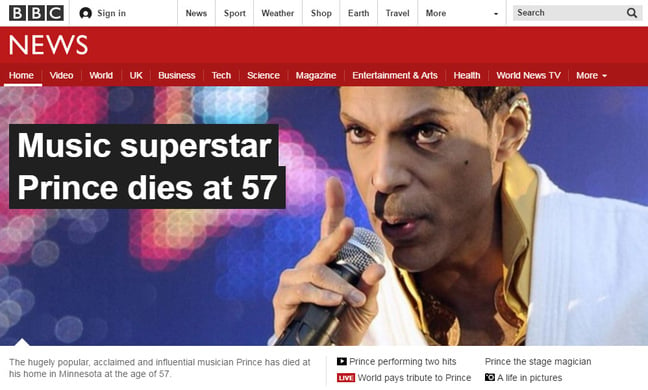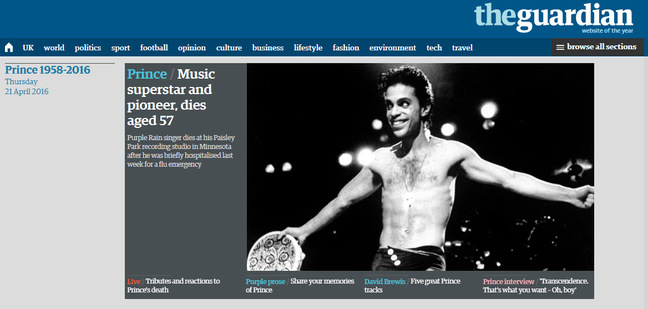 ...included "live" updates consisting largely of embedded Twitter tributes* - very much the news-gathering technique of the moment - and indeed who are we to turn down a free lunch?
We lost a great one way too soon. I was devastated to hear the news today as I'm sure many of you were. #ripprince pic.twitter.com/vrESIi5biD

— Michael Bublé (@michaelbuble) April 21, 2016
A purple nebula, in honor of Prince, who passed away today. https://t.co/7buFWWExMw pic.twitter.com/ONQDwSQwVa

— NASA (@NASA) April 21, 2016
I'm Crushed!! UK news reporting Prince Is Dead?! For Real?! Massive Loss for us all! What a Genius! Speechless.

— Samuel L. Jackson (@SamuelLJackson) April 21, 2016
On Facebook, meanwhile, mere mortals were keen to express their shock and dismay in the traditional way - by sharing YouTube videos of the man's greatest moments. Fair enough, for those who haven't yet enjoyed this blistering piece of guitar-bothering:
However, among those lamenting Prince's passing were those - and you know who you are - who having previously demonstrated complete indifference to his work were now tearfully insisting that it "provided the soundtrack of my youth" and that life would henceforth be a meaningless, numbing void.
Most entertaining, though, were those who showed a total lack of understanding of the nature of mortality. Commenting on what has already proved an "annus horribilis for celebrities", claiming David Bowie, Alan Rickman, Terry Wogan and Victoria Wood, one Facebooker wrote yesterday: "Another one gone! When will it end?"
Well, we have it on good authority that 100 per cent of those celebrities who are still hanging on in there will at some stage be dead, in common with unimportant people.
Brace yourselves, then, for more bad news, even if the online eulogies won't all be in honour of superstars of Prince's stature. The Guardian's obituaries editor has said that he is "no longer able to fit in all the public figures who would have historically figured on the page because of the rise in high-profile deaths".
The paper notes: "The nature of fame and celebrity has changed radically in the past decade, with the rise in internet use and mobile devices such as smartphones, along with the plethora of television channels available.
"As well as actors, musicians, royalty, sporting figures, politicians and the like, there are now hundreds of reality TV stars, comedians, game show hosts, mavericks and people famous simply for being famous. That means there are far more celebrities whom more people will have heard of when their number is up."
Yup, better have that Kim Kardashian live rolling Twitter tribute piece ready to print, just in case 2016 continues to deliver. ®
Bootnote
*Here's one from Mike Tyson. The mind boggles:
#supertribute to #Prince #RIP Like the world I mourn but celebrate your spirit with your music pic.twitter.com/NhdPnHRwa9

— Mike Tyson (@MikeTyson) April 22, 2016