Google Loon balloon crash lands in Chile
Police cordon off net-disseminating remains in farmer's field
The Chilean authorities are investigating a Google Project Loon balloon flight which ended on Saturday morning in a pile of crumpled kit in a farmer's field.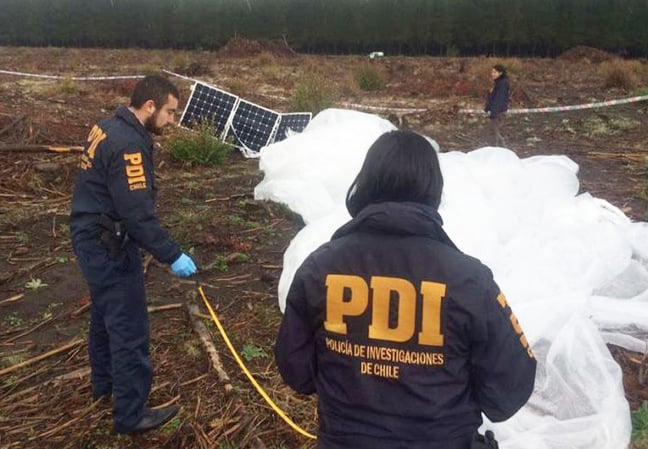 Pic: Policía de Investigaciones de Chile
Police teams cordoned off the crash site to the east of Los Ángeles, some 100km southeast of the coastal city of Concepción. As well as members of the Policía de Investigaciones, a team from the CSI-style Laboratorio de Criminalística (LABOCAR) tentacle of the Carabineros de Chile was on hand to probe the remains.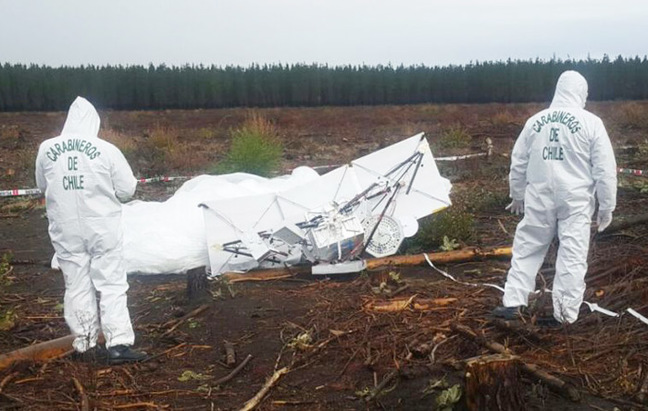 Suited and booted: Members of the Laboratorio de Criminalística. Pic: Policía de Investigaciones de Chile
Google assured the local press that the balloon had "successfully completed a test flight" of the company's airborne internet-disseminating tech.
It insisted: "The landing was controlled locally, and in the end it was possible to carry out a slow descent in the area of Los Ángeles."
The Chilean civil aviation authority - the Dirección General de Aeronáutica Civil (DGAC) - will now investigate.
Project Loon orbs are designed to float at an altitude of 20 km for up to 100 days. Google explains: "Each balloon can provide connectivity to a ground area about 80 km in diameter using a wireless communications technology called LTE [Long-Term Evolution].
"To use LTE, Project Loon partners with telecommunications companies to share cellular spectrum so that people will be able to access the Internet everywhere directly from their phones and other LTE-enabled devices."
Google says of its globes: "Loon's balloon envelopes are made from sheets of polyethylene plastic, and they measure fifteen meters wide by twelve meters tall when fully inflated.
"When a balloon is ready to be taken out of service, gas is released from the envelope to bring the balloon down to Earth in a controlled descent. In the unlikely event that a balloon drops too quickly, a parachute attached to the top of the envelope is deployed."
The first Loon test flights launched from New Zealand in June 2013.
®
Bootnote
Muchas gracias to Rodrigo Valenzuela Shawcroft for the tip-off.