Windows 10 Anniversary Update draws nearer with Inky preview
Build 14328 has Ink Workspace, updated Start menu
---
Microsoft has released Windows 10 build 14328 to "Windows Insider" previewers. The build is available for both PC and mobile, and is described by VP Gabe Aul as a "MAJOR build, packed with lots of new features and improvements".
The new features will be part of the Windows 10 Anniversary Update which is set for release in Summer 2016.
Although IT professionals will regard features like Ubuntu on Windows and "Project Centennial" (the ability to convert desktop applications to Store apps) as more important, the focus of this build is on innovations that ordinary users will notice. Top of the list is a reworked Start menu, or what Aul prefers to call an "updated Start Experience."
The revised Start menu has a fixed "rail" down the left hand side, for the Power icon and customisable Explorer shortcuts for standard folders like Pictures and Music. The "All apps" list is now always on view, where previously you had to click or tap to expand it. This means less clicking, which is good, though when combined with Live Tiles it is now a three-pane layout which looks busier.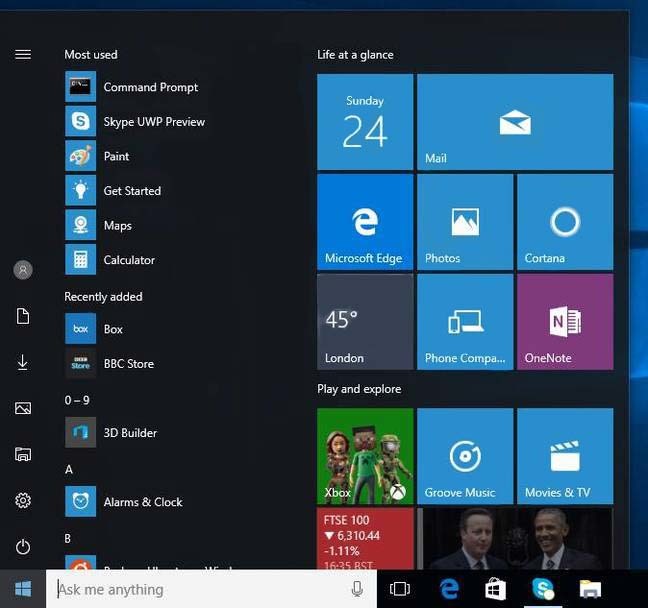 The revised Start menu in Build 14328
In Tablet Mode Microsoft has changed the All Apps menu so that it fills the screen, more like it did in Windows 8. You can also now set the taskbar to auto-hide in Tablet Mode only. This is part of an effort to make Windows 10 the equal of Windows 8.x for tablet users, though it is not an easy task as this thoughtful thread on why Windows 10 is worse demonstrates. Is it possible to make an operating system that is satisfying both for tablet and desktop users? The jury is still out.
The other headline feature in this build is the Ink Workspace. Microsoft and pen computing go back a long way. Former CEO Bill Gates demonstrated Windows for Pen Computing in the early Nineties. You might describe it as a successful niche for the company, but niche it has remained. "Who wants a stylus?" said Steve Jobs at MacWorld 2007, "you have to get 'em, and put 'em away, and you lose 'em, yucch!"
The stylus has its place though, as even Apple now recognises, and the new Ink Workspace is an effort to make using a pen easier. "Using a pen on Windows can be a complicate place" confesses Group Program Manager Li-Chen Miller. The Ink Workspace is a kind of Start menu for ink applications, and lets you launch a Sketchpad app with simple pen controls and a ruler for drawing straight lines, a Screen Sketch which is essentially Sketchpad with the current screen as a background, for annotating your work, an updated Sticky Notes app, and a link to other ink-enabled apps in the Store.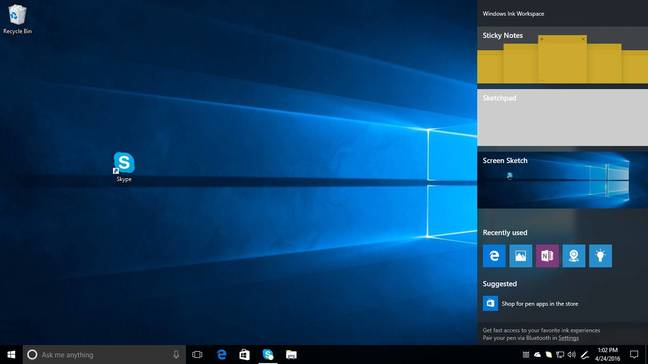 The Ink Workspace in Windows 10 build 14328
Stylus support in Windows 10 is important for certain types of user, such as designers, artists, or business users in scenarios where keyboard and mouse are impractical. That said, Microsoft's continuing efforts to make it mainstream may be misguided. It is dispiriting to read Miller's statement that "our team is just getting started." After 25 years, you would have thought Microsoft would be further along. Reasonable further questions would be whether partitioning Ink applications away from the standard Start menu is a good idea, and why Microsoft has built yet another sketching application after previous good work with Fresh Paint.
Despite these caveats, the ability to annotate the current screen with a few taps and a quick scribble is a neat feature.
Windows 10 Anniversary Update will also include plenty of minor tweaks, many of which have found their way into this build. You can now reset an app's settings, which as Aul notes, "is useful if an app gets into a bad state." You can switch between virtual desktops with a touchpad, media controls show on the Lock screen, User Account Control (UAC) elevation now supports Windows Hello, File Explorer has a new icon, file search works across OneDrive and the local PC, and Cortana has some upgrades including some functionality even for those who have not signed in and enabled personalisation.
Windows retains a capacity to perplex which Microsoft would do well to reduce or eliminate. For example, I ran the new Screen Sketch tool and saved my work to the default location, which is C:\[USERNAME]\Pictures. I then returned to the desktop, opened Windows Explorer, and looked in Pictures in the Quick Access list. The image was not there. I looked in Pictures under "This PC". Still not there. The reason, it turned out, was that OneDrive is the default location for pictures if you are Windows Explorer, but apparently not if you are Screen Sketch. The annoyance here is that Windows has had, since Windows 7, a "Library" feature that lets you merge folders, but this is not used by default. On the positive side, search found my image instantly.
Another disappointment came when I tried out Cortana with what seemed to me a straightforward request, "Make a note." Cortana thought for ages, and then came up with a web search, rather than opening some variety of Sticky Note as I had expected.
This is a preview though, and Aul notes that "With the amount of code change in this build there are going to be some rough edges." Microsoft has also announced a "Windows 10 Anniversary Update Bug Bash" coming soon, which Aul describes as having "the team spend the time focused on finding new unreported issues." Many Windows users would cheerfully trade new features for a more reliable and predictable experience, so here's hoping that many bugs get bashed. ®