Ex-Apple gurus' elusive Android phone coming to UK next month
Obi Worldphone aims for the budget buyer
---
The startup backed by former Apple CEO John Sculley is most famous today for being elusive - but all that's about to change. Obi Worldphone told us today its first UK phone will launch here next month, promising style and mid-range specs for a paltry £119.
Obi's story is unusual – it leveraged the economies of scale of Shenzhen's manufacturing miracle but added design smarts. Like rival WileyFox, with which it shares some similarities, it's basing its UK debut around a CyanogenMod design. But it's aiming for a distinctive style, with devices designed by former head of design at Apple, Robert Brunner. Brunner's studio designed the "Beats by Dre" headphones.
Obi came out of the shadows in the autumn of 2014, but not much of it has been heard of since. Industry veteran Ankush Chatterjee, a lead in Samsung's innovation team (from which the curved Edge display came) filled in the gaps for us.
The 70-strong company has begun selling its first two models in around 10 markets - including India, Thailand, Vietnam and the Gulf States, for a few months. The UK debutant will be its third phone: MV1, a 2GB model based around a Snapdragon 212 chip, and goes on sale on Amazon UK in late May (updated).
All three phones share Brunner's distinctive "floating glass" design. The casing marries grippy polycarbonate with a metallic finish. It's easily the best looker in its price category, and the differentiation continues with the licensing of CyanogenMod Inc.
Chatterjee told us that despite the clamour for stock Android, real consumers actually value the extras CM brings to the party: greater customisation, app level permissions, the audio tweaks, and the sunlight-readable display.
"We're not necessarily tied to them," he says, but the partnership is working out well today.
"Stock Android is just the basics and the Play Store, and off you go," he says.
Obi will also roll out regular monthly-ish updates – something Chinese rivals are notoriously bad at.
To try to reassure punters nervous of opting for a new brand, Obi will offer 1:1 swaps for anyone with a problem device. There'll also be a UK hotline.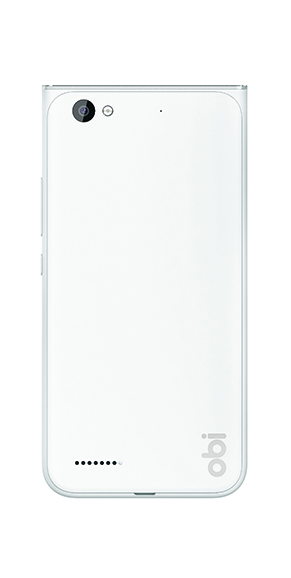 "At Motorola I'd have been fired for suggesting we target phones costing £150-200," reflects Chatterjee. But with the ultra-competitive market, Obi is aiming even lower: £100-150. In the move to value handsets and SIM-only deals, the UK is leading the way, something Obi considered in making the UK its first European market. Launches in Germany, France, Spain and the Netherlands will follow.
The specs for the beast: Cyanogen OS 12.1.1, Lollipop 5.1, LTE, 16GB/2GB, dual micro SIM; 149g, Snapdragon 212 with Adreno 304 graphics, 720x1280 (294ppi) display, 8MP/2MP shooters, 2500 mAh removable battery.
You've seen a lot worse for £119. ®