The sum of $83.7m exceeded Barracuda's revenue estimates for its fourth fiscal 2016 quarter, ended Feb 29, 2016. It was a 16 per cent rise year-on-year and a 4.5 per cent rise quarter-on-quarter.
There was a $3.2m net profit, pleasing after five straight loss-making quarters.
The full year revenue number was $320.2m, 15.4 per cent up on last year's $277.4m. The net loss was $4.4m, better by far than last year's $67.5mn.
Things are looking up, as BJ Jenkins, Barracuda's president and CEO, said in his prepared remarks: "We continue to build momentum in our core focus areas and are pleased with the initial results of our efforts to capitalise on the fastest growing trends in our markets."
CFO David Faugno alluded to "better than expected" results. The numbers reveal:
Appliance revenue was $21.7m, compared with $20.9m a year ago
Recurring subscription revenue grew to $62.1m, up from $51.2m a year ago, and representing 74 per cent of total revenue
The active subscribers grew 14 per cent to 278,000
The dollar-based renewal rate was 96 per cent for the quarter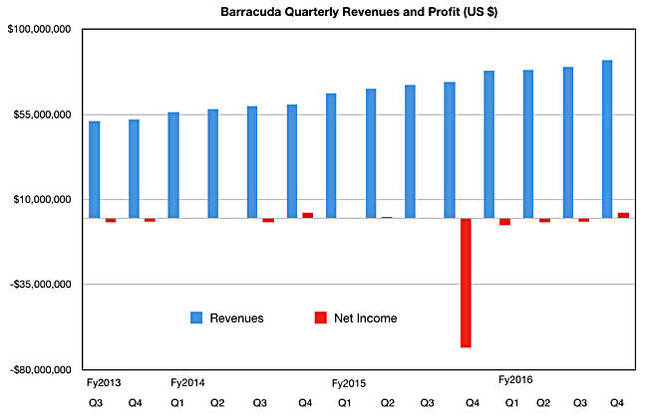 William Blair analyst Jason Ader said this quarter's results followed "three consecutive quarters of billings and revenue disappointments," and "management unveiled a three-pronged strategic plan to reaccelerate growth," including:
Realigning Barracuda's product portfolio to go along with rather than against market trends
optimizing go-to-market routes to enable the sales organisation and channel partners to capitalise on the market shifts
Balancing growth and profitability as the business transitions to a ratable subscription model
He said there were pockets of strength, "for example, the company's next- generation firewall and virtual solutions continue to grow nicely, " but highlighted that Barracuda's previous business model of "delivering IT solutions at low cost and complexity to SMB customers [is] being hijacked by public cloud providers."
Ader thinks "the fast and unforgiving nature of the shifting IT landscape has created a significant degree of uncertainty regarding the company's growth outlook."
But "management sees a significant opportunity going forward to help customers in the cloud gain the same level of security and archiving they are accustomed to on-premises. During the quarter, the company launched Barracuda Essentials for Office 365 (with content security, advanced threat protection, and archiving features), and has made significant headcount investments to support this initiative."
The portfolio realignment looks like this:
Core (over 80 per cent of subscription billings in fiscal fourth quarter), which includes the on-premises deployment options of Backup and NG Firewall, as well as cloud and MSP-delivered components of the security and data protection portfolio
Legacy on-premises, which consists of appliance-based on-premises solutions outside NG Firewall and Backup; this segment has a significant installed base but will be a smaller portion of total billings over time
Non-core, which includes areas that are not tightly aligned with the go-forward strategy and will likely see consolidation via divestiture or integration into existing platforms as features; for example, CudaDrive was consolidated during the quarter and many customers were migrated to partner Microsoft's OneDrive platform
Fiscal 2017 revenue is expected to be between $337m and $342m. ®