This article is more than 1 year old
IBM bungs deduplication in FlashSystem arrays
DS8888 high-end flash array for mainframers and the like
IBM launched three new all-flash array products, including an all-flash DS8888 monolithic array.
It says the three products each have a minimum latency of 250 microseconds, and use IBM's proprietary format flash drives, called MicroLatency modules.
Big Blue says the MicroLatency technology transfers data within the flash array via hardware instead of using [slower] software.
The current FlashSystem product set has a bare-bones 900 product and a V9000 which has added data services courtesy of the included SVC (SAN volume controller) – thus providing compression but not deduplication – and also lengthens the 900's 90‑microsecond read data access latency to upwards of 200 microseconds.
A9000 and A9000R
Two new FlashSystems are being added, both with data reduction features including pattern removal, deduplication and real-time compression:
A9000 – a fully-configured 8U system with 3 controllers, for cloud, VDI and VMware workloads
A9000R – a racked, grid-design system for use in mixed-use and cloud workloads
They have a REST API and feature multi-tenancy capabilities, noisy-neighbor-removing quality of service capabilities, and integration with Microsoft, VMware, OpenStack and IBM SoftLayer environments.
IBM fellow Andy Walls, who is CTO and Chief Architect for IBM Flash Systems, says that the deduplication has been developed in-house by IBM. The use of Permabit's Albireo deduplication was a stop-gap measure by IBM.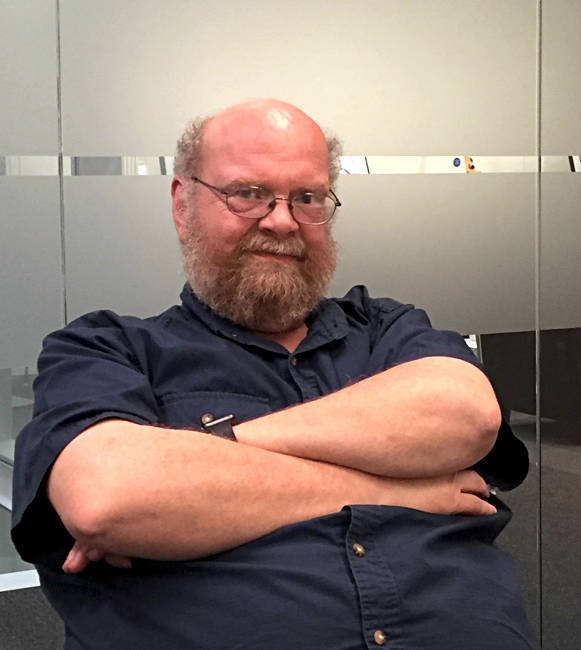 Andy Walls, IBM Fellow, CTO and Chief Architect for IBM Flash Systems
The A9000 features security at rest, redirect on write snapshots, and both synchronous and asynchronous replication. It has variable stripe RAID protection, non-disruptive upgrades and five 9s availability. IBM says it can survive controller failures without performance degradation.
There are three configurations with a dozen 1.2TB, 2.9TB or 5.7TB flash modules each (using 20nm MLC flash) and with a 250μs minimum latency. The effective capacities after data reduction are 60, 150 and 300TB respectively*. Performance is 500,000 IOPS with a 70/30 read/write mix.
The A9000R has the same minimum latency, up to 2 million IOPS, and has twelve MicroLatency flash modules per sub-enclosure. A system can have up to six such enclosures (grid elements) with a set of InfiniBand switches and power distribution units in the middle of the rack.
Using 2.9TB modules, the effective capacity is 150TB per enclosure, with 2 grid elements having a 300TB effective capacity, and 6 offering 900TB.
If 5.7TB flash modules are used, the equivalent numbers are 300TB per enclosure, 600TB with 2 grid elements and 1.8PB with 6 grid elements.
Both systems come with a 7-year warranty with optional price protection and flash media retention offerings. The data reduction has guaranteed estimated efficiency savings within the guarantee period. There is an estimate-­free, sight-unseen guarantee for rapid workload deployment.
DS8888
The all-flash DS8888 inherits the DS8000 data management services and mainframe affinity. It is built using Power8 servers and offers up to 2.65 million IOPS. There is greater than six 9s availability and various replication options – IBM FlashCopy, Metro Mirror, Global Mirror, Metro/Global Mirror, Global Copy and Multiple Target Peer-­to-­Peer Remote Copy (MT-­PPRC).
It is a 40U rack offering with a 192TB maximum capacity and a minimum latency of less than 1msec. There are 2 redundant Power8 controllers with 96 cores in total.
IBM also introduced a Hyper-Scale Manager providing a way to manage more than 100 loosely-coupled storage units through a single pane of glass.
The FlashSystem A9000 and A900R are available now and priced as low as $1.50 per (effective) gigabyte. The DS8888 should be available on June 10. No pricing information was provided. ®
* Assuming up to a 5.26 to 1 data reduction ratio.