This article is more than 1 year old
Q. What's the difference between smartphones and that fad diet you all got bored of? A. Nothing
Global sales see first-ever decline, analysts say it's not just Apple losing ground
For those wondering if we've reached Peak Smartphone: global smartphone shipments saw their first ever quarterly drop, say analysts.
Research house Strategy Analytics says that shipments in the first quarter of 2016 declined by three per cent over the same period in 2015. This marks the first time analysts have recorded negative growth in smartphone shipments.
"It is the first time ever since the modern smartphone market began in 1996 that global shipments have shrunk on an annualized basis," said Strategy Analytics director Linda Sui.
"Smartphone growth is slowing due to increasing penetration maturity in major markets like China and consumer caution about the future of the world economy."
The report would confirm what many companies have already begun to see in their own financial figures. Apple cited slowing iPhone sales among the factors for its first revenue drop since 2003, and Strategy Analytics believes other vendors have, or will soon, feel the pinch as the global market tightens.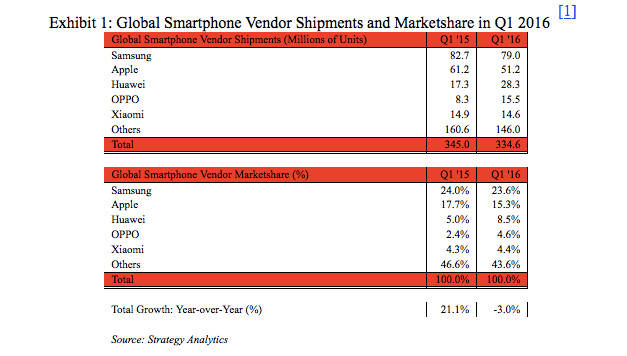 Shipment stats ... The numbers were up for a few vendors. Source: Strategy Analytics
Overall, Samsung maintained its lead in the Strategy Analytics tracker, holding a 23.6 per cent share of the market. Apple was second, with a 15.3 per cent share of the market, followed by Huawei with 8.5 per cent.
Among the few companies who have seen a boost is OPPO Electronics, which went from shipping 8.3 to 15.5 million units on the quarter and growing its market share from 2.4 to 4.6 percent.
While the market as a whole is shrinking, analysts believe that Asian-focused companies like Xiaomi will feel the most pressure as their domestic market tightens and the prospects of global expansion become tougher.
"Xiaomi remains under pressure from OPPO, Vivo and others across Asia, while it is still very weak in North America and Western Europe and the vendor will need to target these regions more aggressively if it wants to catch Huawei and others in the future," Sui noted.
Strategy Analytics is a bit on the pessimistic end with its numbers. Fellow analyst firm IDC estimates in its quarterly report that shipments haven't actually gone into the red, but rather are flattening out. ®