This article is more than 1 year old
Alphabetti spaghetti: SanDisk adds SLC cache to TLC SSD
Z400 PC SSD gets capacity raise and faster cache
Acronym alert: SanDisk has upgraded its Z400 PC SSD by changing it from an MLC drive to a TLC one with an SLC cache, doubling its capacity as well making it faster.
The Z400 SSD used 15nm MLC (2 bits/cell) flash when it was introduced a year ago.
SanDisk has kept the 15nm NAND but changed it to TLC (3bits/cell), upping its capacity by around 50 per cent. The Z410 comes in three capacities; 120GB, 240GB and 480GB, whereas the Z400 had 32GB, 64GB, 128GB and 256GB variants.
As well as increasing capacity with the MLC to TLC move, SanDisk has increased performance by adding an internal SLC (1bit/cell) cache; SLC flash being faster than MLC which is faster than TLC. Sequential write performance has been improved substantially, as this table shows:
The product's endurance has also been extended.In terms of terabytes written (TBW) during its warranted life the Z400 numbers were 20 TBW (32GB), 40 TBW (64GB), 72 TBW (128 and 256GB). The Z410's equivalent numbers are 40 TBW (120GB), 80 TBW (240GB) and 120 TBW (480GB).
However the Z400 had a five year warranty whereas the Z410 has a 3-year one.

Z400 and Z410 comparison table
The Z410M has a 1.75 million hours MTTF rating and its power draw profile is 50/30/3mW in Active/Slumber/DEVSLP modes. It comes in 2.5-inch format, SanDisk not using the Z400's M.2 and mSATA form factors with the Z410.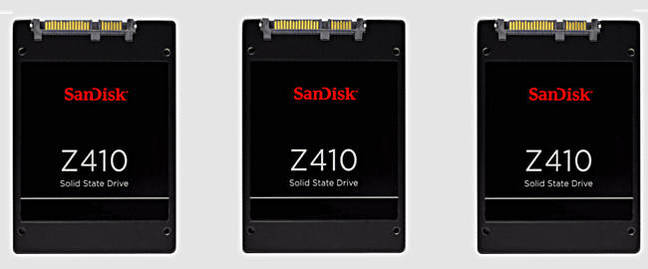 The thing is said to be a budget SSD and to be available now, but there is no pricing information available. Tsk tsk, SanDisk. Get your ducks in a row. ®