This article is more than 1 year old
SanDisk's enterprise flash sales are embiggening nicely
3D NAND expansion coming along with second generation product
SanDisk enjoyed fatter revenues on an annual compare in its first quarter, driven by higher enterprise product sales.
First 2016 quarter revenues of $1.37bn were three per cent up the $1.33bn recorded a year ago and, as expected, seasonally down on the final 2015 quarter's $1.54bn by 11 per cent.
There was a profit of $78m, a nice and clear 100 per cent up on a year ago, and, again, seasonally down on the prior quarter's $133m.
SanDisk said there was "better than anticipated demand for our enterprise solutions, client SSDs and removable products"
Enterprise flash product revenue growth was driven by enterprise SATA SSDs and PCIe products and growth at hyperscale customers.
President and CEO Sanjay Mehrotra provided a straightforward canned quote: "Our first quarter results mark a solid start to 2016. We delivered year-over-year growth in revenue, earnings and cash flow, and are pleased with the strength of our Q1 revenue in enterprise solutions, client SSDs and removable products."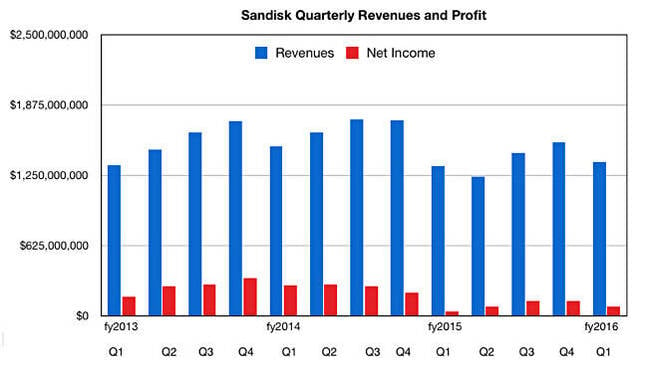 Its earnings presentation (PDF) had this example of cost and price changes in flash in the quarter:
Quarter on quarter change in cost/GB: down six per cent
Year on year change in cost/GB: down 40 per cent
It also provided some revenue component splits:
Enterprise products – revenue grew nine per cent quarter-on-quarter (Q/Q) and 15 per cent Y/Y
Client SSDs – revenue declined six per cent Q/Q, reflecting seasonality, and grew six per cent Y/Y
Embedded flash – Revenue declined 33 per cent, both Q/Q and year-on-year (Y/Y), due to weak demand from smartphone customers
Removable flash – revenue declined 15 per cent Q/Q due to retail seasonality, grew six per cent Y/Y
Other – revenue increased 12 per cent Q/Q and 54 per cent Y/Y, driven by sales of components and wafers
It's having its 3D NAND product qualified with OEMs and its next 3D NAND generation is expected to attain volume ship in the first half of next year. 3D NAND is estimated to represent 15 – 20 per cent of the industry's total NAND wafer capacity exiting 2016. SanDisk's own 3D NAND wafer capacity is estimated to be approximately 15 per cent of its total wafer capacity exiting 2016.
SanDisk said it had "sampled our second-generation 12 Gbit/s enterprise SAS SSD based on our 15nm technology and remain on track to launch this new SAS offering as well as our NVMe PCIe SSD later in 2016."
It finished qualification of 15nm X3-based (TLC or 3bits/cell) client SSDs at a major OEM in the quarter, with production ramp expected in the second quarter. Additional OEM qualifications for this product should complete in the second quarter.
That means we can look forward to strong 3D flash product competition between Intel/Micron, Samsung and Toshiba/WDC/SanDisk.
InfiniFlash interest is growing but there's not enough business there yet to call it out separately. We are bound to see a 3D NAND version of InfiniFlash by this time next year, El Reg assumes, with higher capacity – perhaps with 750GB, maybe even a petabyte, in its 3U enclosure. That would please partners like IBM, Nexenta, Red Hat, and Tegile.
Now, imagine an NVMe over fabric-connected InfiniFlash. That should be interesting to people wanting real-time Big data analytics. And as for HPC-style use cases ...
As WDC is buying SanDisk there will be no earnings call. It expects this acquisition to close by the end of June, 2016, pending regulatory approval from China. ®