This article is more than 1 year old
Revealed: The revolving door between Google and the US govt – in pictures
It's the busiest thing in DC
A new project to uncover the symbiotic relationship between Google and the US government has uncovered some mind-boggling details.
The Campaign for Accountability (CFA) this week launched the first two of its Google Transparency Projects. One of the projects – a visualisation of the revolving door between Google, the White House and US government agencies – is so dense, the website suggests viewing it on a desktop display.
As well as Googlers leaving the ad giant to join the administration, there's also a heavy traffic in the other direction, with federal employees leaving to join Google. The project documents 61 staff taking key public positions after leaving Google, or firms working closely with Google, and 171 leaving public office to join the Chocolate Factory.
Indeed, you may argue that it scarcely matters what badge these people wear on a given day: public policy today in areas ranging from national security to telecoms and healthcare is devised and administered by Silicon Valley, or with significant Silicon Valley input.
The CFA's Executive Director Anne Weismann sued the second Bush administration to prevent the destruction of millions of emails in violation of the Presidential Records Act and the Hatch Act, which oblige federal officials and the President from deleting communications. Millions of messages were "missing" after the White House's bungled its email archiving system.
Today's Democrats seem to be much less curious to find out about the Obama's administrations extraordinary close relationship to Silicon Valley, and Google in particular.
We noted earlier this month that former Google staff occupy key posts in areas essential to Google's business: antitrust, telecoms policy and patents, for example. The CFA documents 31 Google staff or close associates joining the White House itself, while 22 former White House staff have joined Google. Seven former national security and intelligence staff and 18 Pentagon officials have moved to Google. Five Googlers work at the State Department, with 18 former State Department officials joining Google. Associates includes law firms and lobbyists working for Google.
The FCC, a nominally independent communications regulator captured by Google to implement Title II "net neutrality" reclassification at President Obama's request, has seen nine transfers involving Google.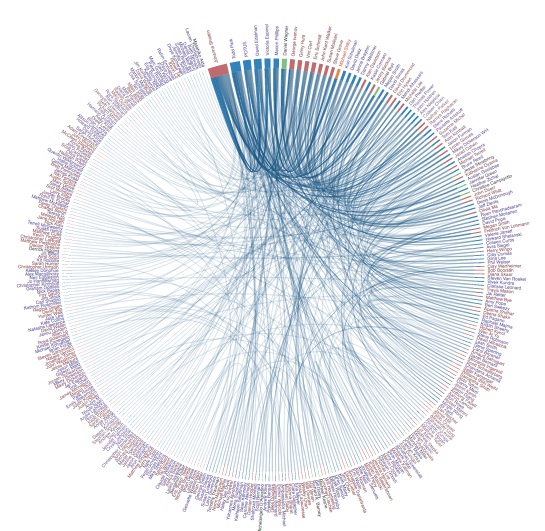 The CFA also documents who met whom according to public records ... Click to enlarge
The research throws up some interesting and hitherto under-reported influences, such as the role of Civis Analytics, a company described as a "big data brains trust" whose sole investor is Google chairman Eric Schmidt. Nearly 30 members of Obama's political team went to Civis Analytics, and were in turn deployed to work on government projects.
After Civis Analytics worked on the Healthcare.gov website, it emerged that personal data was being sent to "to advertising and Web analytics sites", including Google.
"The extraordinary access to the White House enjoyed by Schmidt's firm suggests that Google's reach, and by extension Schmidt's, has extended far beyond traditional politics and lobbying. The presence of former Google employees in the White House and the influence of its top executives have allowed Google to become embedded in the fabric and execution of policymaking," the Associated Press noted.
Placing employees in the Obama administration is just one way of influencing policy. The Washington Post records over 150 academic departments, think tanks and "grassroots" or "civil society" groups, including the Electronic Frontier Foundation and Public Knowledge, as receiving Google cash. ®