This article is more than 1 year old
WD's revenue wheels have fallen off. Profits are sinking, too
SSD cashflows do little to ease the growing HDD drought
WD is experiencing global disk drive cooling as the slowing PC jetstream and flash El Nino jointly disrupt the HDD environment.
But that's enough in the meteorological metaphor line. WD revenues fell 21 per cent year-on-year to $2.8bn in WD's third fiscal 2016 quarter, which closed April 1.
The quarter-on-quarter compare shows a fall of 15 per cent from last quarter's $3.3bn to $2.8bn.
There was a net profit of $74m, down a savage 81 per cent from the year-ago quarter's $384m and down 71 per cent from the prior quarter's $251m. What caused the revenue and profit wheels to fall off WD's wagon?
CEO Steve Milligan's canned quote pointed the finger at PC decline and enterprise cloud use: "We continue to manage our business effectively in a dynamic storage demand environment. "Computer usage continues to shift from PCs to mobile devices and enterprise workloads are moving increasingly to cloud-based architectures."
The point about the cloud seems a bit iffy, as storage is still needed in the cloud.
But WD will be alright, because, as he said: "Our strategy to become a broad-based provider of media-agnostic storage solutions anticipates these and other trends. After we complete the acquisition of SanDisk, we will be better positioned to address and capitalise on these changes and opportunities, with the storage industry's broadest set of products, a rich technology portfolio, and an experienced team in both rotating magnetic and non-volatile memory."
We looked into the numbers. Here's a quarterly revenue and profits chart: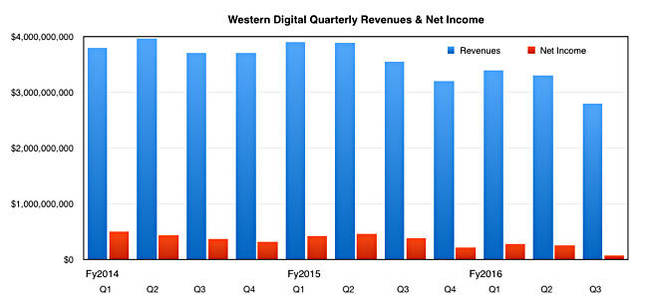 Yes, revenue and profits fell. Next up is a disk drive units chart showing a drop to 43.1m units from last quarter's 49.7m, a 13.3 per cent fall, and the 51.7m recorded the quarter before that. We can see a falling trend line here.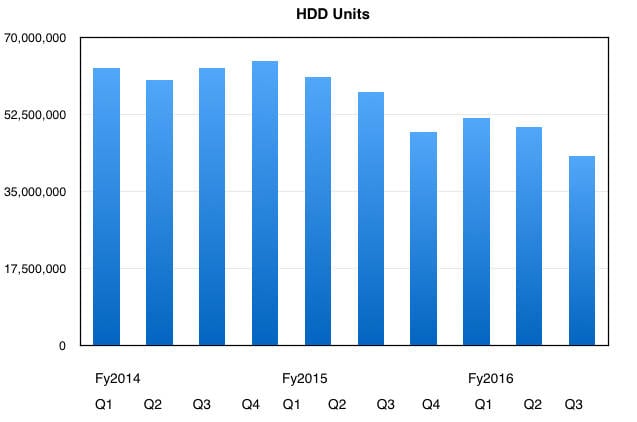 Seagate similarly announced a disk drive unit ship fall in the quarter, down from to 39m from the previous quarter's 45.9m.
Do the disk drive sector splits give us any more insight into why WD disk drive sales went south?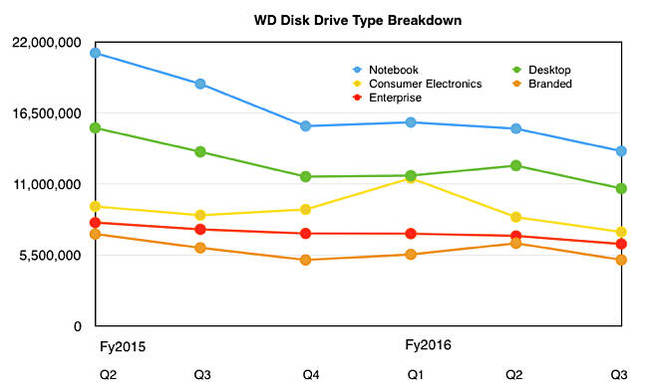 We see that all sectors showed declines. What about enterprise SSDs? Any information joy there?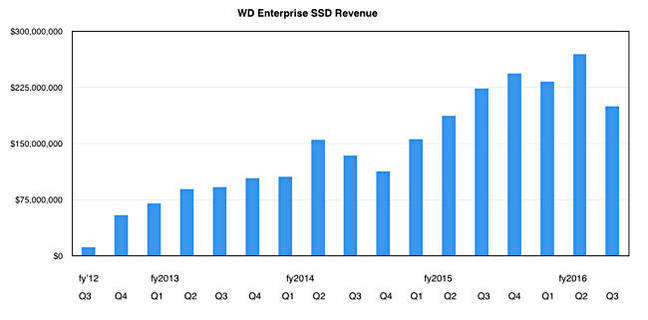 Nope, a fall there too, to revenues of $200m from the year-ago $224m and the previous quarter's $270m.
Comment on HDD displacement by SSDs
Not that anybody knows, but if we ask how many disk drives and enterprise SSD purchase displaces the answer could be, on an equivalent capacity basis, three, four, even five or more.
So, if an enterprise buys ten 200GB SSDs it could then choose not to buy fifty 200GB HDDs. The displaced revenue cost of SSD substitution for a disk drive manufacturer could be huge. If the SSD-HDD replacement multiplier is greater than five, then the lost revenue implications could be worse.
In general it looks as if there was muted demand for all of WD's products in the quarter. Analyst haus Stifel Nicolaus' MD, Aaron Rakers, said the company did see demand weaknesses in PCs and performance enterprise drives (10K and 15K) in the quarter. That's expected to continue into the next (fourth) quarter.
Rakers also noted: "WD saw steeper-than expected price declines in enterprise in both performance and high-capacity (especially 4-8TB capacity drives) and WD lost share in enterprise as it chose not to participate in certain low-priced deals."
It's putting selected enterprise prices up and hopes Seagate (and Toshiba) will follow its lead.
Rakers also said that WD is seeing increased demand for enterprise SSDs in storage arrays. It would not give a forecast for its SSD business in the June (fourth) quarter, and is "in the midst of a product (i.e. different type of Intel NAND) transition in its SAS SSDs."
The poor company is cannibalising its own enterprise (and PC/notebook) disk drive business with its SSDs and taking a revenue hit through doing so.
The SanDisk acquisition should complete in the June quarter. Rakers said WD management expects HGST integration synergies to total $800m/annum versus prior $650m/annum guide by the end of calendar year 2017.
Next quarter's revenue is expected to be between $2.6bn and $2.7bn, a 17.2 per cent year-on-year decline at the mid-point. Full financial year 2016 revenues would then be $12.15bn, a 16.8 per cent annual drop, and a third straight year of decline. Ouch. The move into flash has yet to offset falling disk drive sales, and maybe it never will.
We think the disk drive vendors probably, and in private, curse deduplication technology, and don't look favourably on copy data management either. ®