This article is more than 1 year old
EMC re-engineers its VNX flashy boxen, puts Unity on the label
Takes better advantage of flash and has sub-$10k starting price
EMC's mid-range VNX/VNXe arrays have been re-engineered to make better use of flash, producing the Unity array with a starting price of less than $10,000.
It is firmly in the active:active, dual-controller mode and comes in all-flash, hybrid flash/disk, and software-only (VSA) configurations. The array is positioned as an SME and departmental array, with XtremIO (starting at $80-90K), VMAX and DSSD aimed at larger enterprise applications.
Unity can perform up to three times faster than present VNX/VNxe arrays, delivering up to 300,000 IOPS. Burton said that, with the $18k starting price, it offered better performance than Pure's //M70 at half the price.
There are Unity 300, 400, 500 and 600 hardware variants; the all-flash models have an "F" suffix, as in 300F. Like the VNX, they offer both file and block access and also have VVOL support. The basic enclosure is a 2U box with six cables coming out of the rear end. There are 2U, 25-2.5-inch drive slit expansion trays.
EMC's president Jeremy Burton says Unity has a new transactional file system, making Unity better suited than VNX to transactional file applications while still running traditional NAS use-cases. Supported access protocols are Fibre Channel, FCoE, NFS, SMB 3.0 (CIFS), and iSCSI.
All the products have up to 25 Samsung 3D TLC (3 bits/cell) SSDs per tray, with 400GB, 1.6TB and 3.2TB drive capacities available, meaning a maximum of 80TB in a 2U enclosure. In August the maximum capacity should rise to around 7TB, with 15TB SSDs coming in the second half of 2017. You can imagine the consequent rises in array capacity.
Here is a table showing basic Unity specs: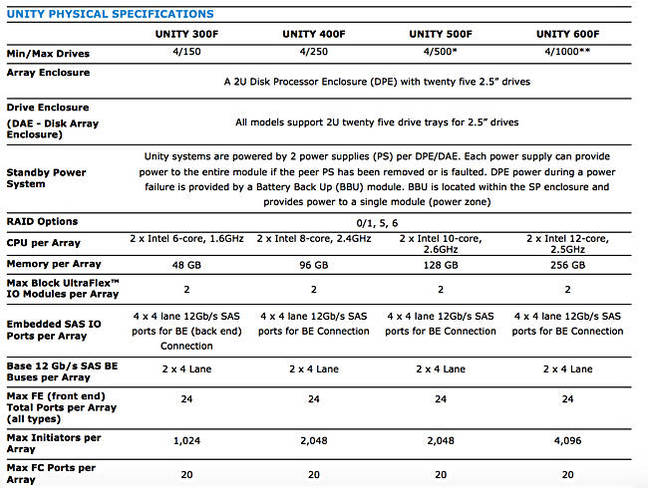 EMC says Unity has a new, simpler-to-use, GUI.
The 300F, starting at 10 drives, scales from 4TB to 480TB, the 400F scales out from 4TB to 800TB, the 500F from 7.7TB to 1.1PB and the 600F from 10.6TB to 1.6PB.
EMC compares all-flash Unity to the competition this way:
300F with 2 x Intel Xeon E5-2603 6-Core 1.6 GHz CPUs, competes with NetApp's FAS2552, HPE's 3PAR 8200 and Nimble's A3000
400F with 2 x Intel Xeon E5-2630 8-Core 2.4 GHz CPUs, competes with to NetApp's FAS8020 , HPE's 3PAR 8200 and Nimble's A5000
500F with 2 x Intel E5-2660 10-Core 2.6 GHz processors, is matched against the FAS8020, 3PAR 8400, Pure //m10 and Nimble A7000
600F with 2 x Intel Xeon E5-2680 12-Core 2.5 GHz mills, competes with the FAS8040, 3PAR 8400, Pure //m20 and Nimble A9000
Hybrid Unity capacities, using 2.5-inch and 3.5-inch SAS drives, are 300 - 3.6TB - 900TB, 400 - 1.2TB to 1.5PB, 500 - 1.2TB to 2.1PB, 600 - 1.2TB to 3PB. There can be up to 25 x 2.5-inch drives or 15 x 3.5-inch drives per enclosure.
In terms of competition:
The 300 competes with NetApp's FAS2552, HP 3PAR 8200, Nimble CS500 and CS300
The 400 competes with the FAS2552 and FAS8020, 3PAR 8200, and Nimble CS700
The 500 competes with the FAS8020 and 3PAR 8400
The 600 competes with the FAS8040 and 3PAR 8450 products
Burton said the VNX brand will sunset (fade away) with Unty becoming the mid-range brand.
VNX has been bringing over 1,000 new customers every quarter to EMC, and EMC hopes Unity will continue that trend, if not increase it.
A future Unity release will add compression, with a consequent rise in effective capacity.
Competitor Tintri was rude about Unity, with CTO Kieran Hart saying: "EMC's introduction of Unity contains a lot of bluster. The reality is there's very little that's new. It's the same old LUN-based architecture with a shiny, new UI. It's more lipstick on the VNX pig."
He asserted: "Organizations need storage specifically built for their virtualised applications, with virtual machine level replication, multi-hypervisor support, quality of service and automation."
Service data from Unity arrays can be viewed within EMC's online MyService360, giving customers real-time service data visibility plus analysis of EMC product code levels, connectivity status, capacity alerts, service activity by site, and more.
Comment
This looks like a solid VNX re-engineering and upgrade effort. It's an all-flash array with up-to-date software and inherits VNX data services. The coming of compression in a future OS release will be welcomed and this, together with a doubling and then re-doubling of the maximum SSD capacity will provide Unity users with great increases in usable capacity.
The maximum 1.6PB all-flash Unity capacity will first jump to above 3.2PB, theoretically, and then past 6.4PB with the SSD size boosts coming from Samsung. Compression could more than double that, meaning total usable capacity of 13PB, maybe even 20PB.
A single 2U tray can hold 80TB now. It could jump to 160TB, then 320TB, and attain, perhaps 500TB with compression. EMC and, soon, Dell-EMC sales reps will have smiles in their faces. Hello dear customer, have I got news for you.
Get a Unity all-flash data sheet here (pdf) and hybrid product data sheet here. Unity hybrid arrays start at under $10,000 with all-flash Unity starting at less than $18,000. The arrays are available now and Unity is available in VCE Vblock and VxBlock System 350 configurations now. ®