A team of developers claiming to have created the world's first plant-pot-powered battery charger are pulling in crowd funding support.
The project has raised more than €61,000 – over four times its target – and has piqued the interest of more than 400 people who have bought the plant pot, named Bioo Lite.
We're told it is equipped with a layer of bacteria that release electrons after slurping up water and organic substances released from plant roots during photosynthesis.
Working just like a battery – because it basically turns your plant pot into a battery – the electrons travel to the anode and stream through a nanowire connected to a USB port passing electricity to any connected device, claim its makers.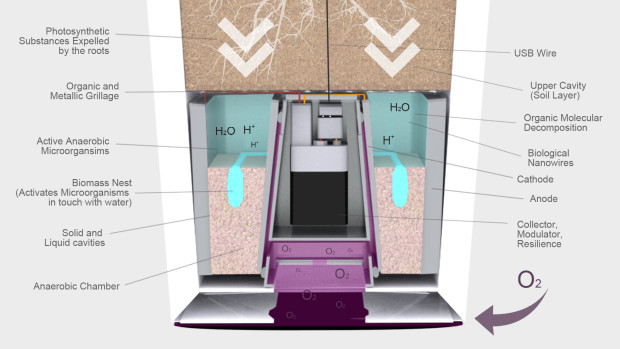 Bioo ... How the plant pot is supposed to work
The developers claim that the plant pot's peak output is 0.8W depending on the "care given" to the plant, according to those behind the project.
However, energy harvested from bacteria alone isn't enough to provide a decent charge. In 2013, a team of scientists from Bristol Robotics Laboratory managed to produce a meagre 2.5mW from urine-powered bacteria.
The output of the chargers from both the bigger Bristol and the smaller Bioo teams is far lower than the 5W output of a typical phone charger.
Chantal Marin, Bioo's chief marketing officer, said that the Bioo Lite device is powered by: "natural chemical enhancers in order to support the energy produced by photosynthesis."®
[You can find a healthy amount of skepticism about this technology over here – ed.]