Defence bankrolls Oz Govt's infosec threat sharing strategy
$10 MELLLION thrown in bid to stop XP users clicking phishing links
---
Budget 2016 The Department of Defence will haemorrhage A$122.2 million and the National Innovation and Science Agenda A$38 million to implement the Federal Government's A$230 Cyber Security Strategy, budget papers reveal.
The funding Strategy announced last month was welcomed by many in security circles and seated information security closer to the national defence agenda.
Key recommendations of the strategy are funded under a A$194.9 million allocation over four years and include:
$82.3 of Defence cash to Attorney General's Department coffers;
A$51.1 million back to Defence;
A$36.4 million to the Australian Federal Police and the Australian Crime Commission, and
A$3.5 million to the Department of Education and Training for six academic infosec centres.
Attorney-General's will tip A$47.3 into new cyber threat centres and the creation of a threat sharing portal, A$21.5 million to expand CERT Australia, and A$10 million to deep-six the Stay Smart Online program and replace it with another awareness campaign.
An expansion of red and blue teaming exercises will be backed with A$2 million in funding with new national best practice security guidelines will cost A$1.6 million.
The Government's so-called security health check services in which top ASX listed companies will be handed threat sheets will be supported on a cost-recovery basis.
Defence will spend A$38.8 million pulling the Australian Cyber Security Centre out of the obsidian high-security ASIO building to make it more accessible to the public and other agencies, and A$12.3 million on Commonwealth agency and entity security and vulnerability assessments.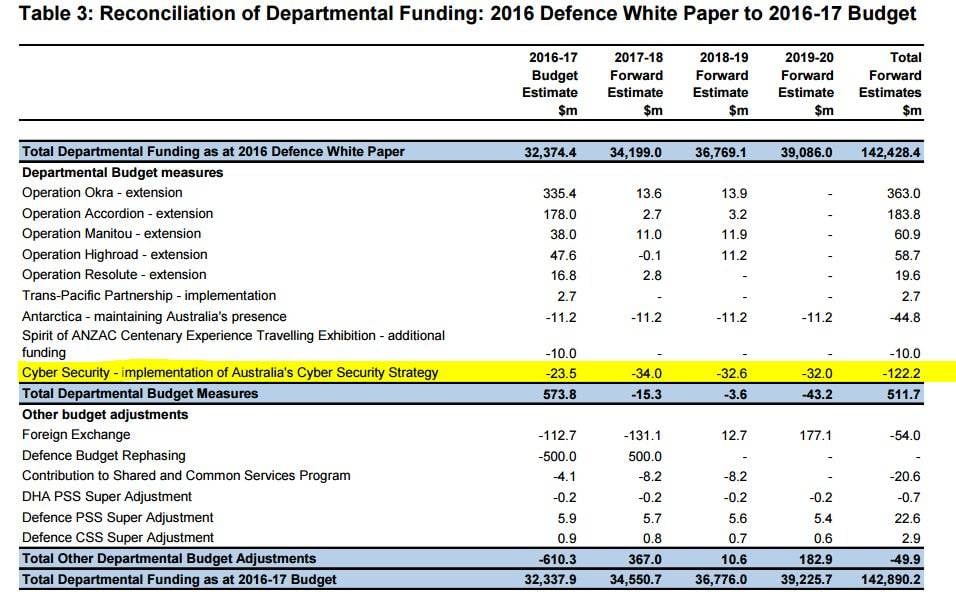 Defence funding reallocation.
The Council of Registered Ethical Security Testers which aims to set something of a benchmark for penetration testers will get a $A14.9 million funding kick from the Department of Industry, Innovation and Science which will also fund some small security tests for small businesses.
The Department of Foreign Affairs and Trade will spend A$2.7 million from its own coffers creating a cyber ambassador role charged with promoting Australia's online interests internationally,
Some $A4 million will go to build out much-needed information security capabilities in the Indo-Pacific region funded from Official Development Assistance.
Kinetic security is a major winner under the Budget. Some 54 new vessels will be built including 12 submarines, 9 frigates, 21 patrol boats, and 12 offshore patrol vessels creating what the Government estimates will be 5330 jobs.
The 2016 Defence White Paper tipped in some A$29.9 billion into Defence bringing capability investment to a whopping A$195 billion over the next decade. ®