This article is more than 1 year old
Q. What's orange and white, has a new CEO but is red all over? A. Teradata
Victor Lund sweeps in as new old broom
+Comment Data warehouse and biz intelligence wrangler Teradata made a loss in its first quarter of 2016. It also recruited a new CEO to get the company motoring again.
The new broom is 67 years old, and you don't need big-data analytics to see he won't be around for long.
Teradata's revenues for the three months to March 31 were $545m, a 6.4 per cent slump from a year ago. It also recorded a loss of $46m, which compares badly to the year-ago $22m profit, itself a low figure for Teradata, and the $41m made in the final 2015 quarter.
Clearly Teradata's board lost faith in CEO Mike Koehler, and appointed board director Victor Lund as its CEO. Lund will oversee Teradata's transformation, they say, meaning a return to growth and profitability, which Koehler was unable to accomplish.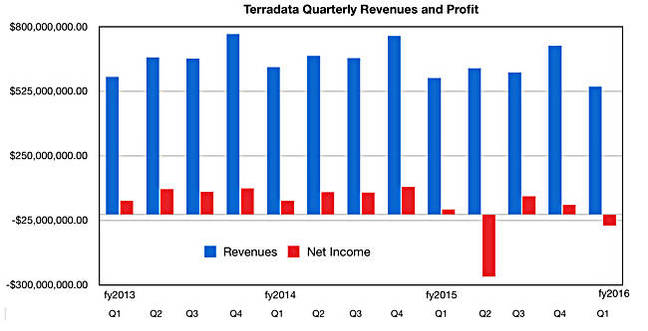 Recent quarterly Teradata revenue and net income numbers
Koehler stepped down as chief exec and as a board member. He had been Teradata's CEO since September 2007, leading the spin-off from NCR that year, so the Marketing Applications fiasco is down to him. The Marketing Applications business unit was the fruit of several acquisitions by Teradata:
Indianapolis-based Aprimo in 2011.
Munich-based eCircle in 2012.
Creative marketing agency Ozone Online in 2014.
Digital marketing company Argyle Social, and mobile messaging company Appoxee in 2015.
It never delivered the hoped-for growth and became an embarrassment. There was a $340m goodwill impairment for the Marketing Applications unit in August 2015.
The extent of the debacle became clear in November last year when Koehler announced a decision to exit the marketing applications business.
Teradata board chairman Jim Ringler praised Koehler: "I want to thank Mike for his many contributions to Teradata. During his tenure as Teradata's CEO, Mike advanced the company's leadership position in data and analytics, gaining continued recognition from leading industry analysts for technology innovations. Significantly, Mike is known for his enduring commitment to customer success."
The rise of public cloud and big data happened on Koehler's watch, and Teradata is not that big in big data – nor the cloud, having relied on powerful on-premises products for its revenues.
Koehler's canned quote reads: "It has been a privilege to lead Teradata's talented employees for the past 14 years, and I am extremely proud of the many accomplishments achieved by the Teradata team during my tenure. I believe now is the right time for new leadership to take the company forward." No hard feelings, then.
Lund's canned quote was a hit-the-ground-hard-and-running kind of thing: "I have a passion for Teradata and our transformation, and I intend to oversee a rigorous implementation of the needed changes. With the support of the talented team at Teradata, we will optimize our go-to-market strategy, develop new cloud-based and flexible solutions our customers need, reinvigorate our organization and leadership and deliver value to our shareholders."
Reg comment
Lund has no direct data warehousing or business intelligence experience, although his résumé headline is 22 years at American Stores, which operated multiple supermarkets and drugstores in the US – a data warehouse and BI user in other words. He is a veteran war horse. Ringler said: "As CEO, Vic will also be highly focused on organisational development and succession planning to address the leadership needed as the company enters its next phase."
Yes, well, let's think about succession planning. It's tempting to see Lund as a board stop-gap, righting Teradata's financial ship while getting a long-term CEO found.
Teradata needs to get aboard the cloud and big data carriages in earnest and turn it into a gravy train. There is evidence of that realization.
In April, Teradata said it would launch a massively parallel processing architecture, dubbed IntelliFlex, alongside its Teradata Database which is already available on Amazon Web Services, and a regional expansion of its managed cloud services into Europe.
Whether the Lund is the man for the job, over at Commvault Bob Hammer is doing an excellent job and he's 70. He's got Commvault doing great things with the cloud. When you have clouds to nail down perhaps you need a hammer-like guy? Maybe Lund is the man Teradata needs. ®