In March 2015 IBM's SoftLayer cloud operation announced it would start to offer bare metal servers running Big Blue's POWER8 chippery.
IBM's press release, dated March 4, 2015, said the new offering was "due in the second quarter" and would see SoftLayer offer "bare metal servers run Linux applications and are based on the IBM POWER8".
The Register now believes the service went live in April 2016.
SoftLayer gave the game away about the delay in this blog post by Chuck Calio dated May 5th, 2016. That post says POWER8 systems "have just become available in SoftLayer's DAL09 data center."
The Register's team maintains accounts with most major clouds and used our SoftLayer account to enter into live chat with support. In that session we were told POWER8 servers only became available last month – April 2016*.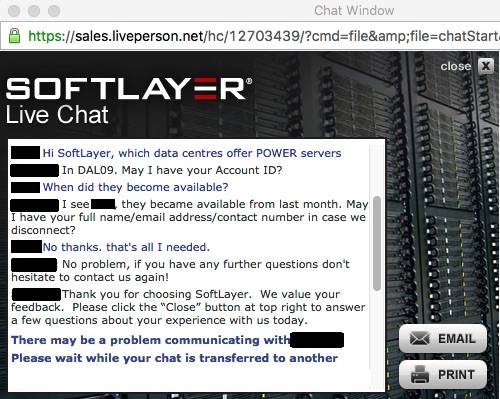 El Reg has contacted IBM to clarify the situation and try to learn of the reasons for the delay but has yet to hear back at the time of writing.
What we can report is that SoftLayer looks to have cooked up four POWER8 offerings, illustrated below.

SoftLayer's POWER8 bare metal server pricing. Click here to embiggen or visit SoftLayer's pricing page
Do you want fries with that? SoftLayer serves up sides galore including 500GB of outbound public traffic, geo-redundant DNS, 24x7 support and biometric security at the one Dallas data centre the boxen run. We're still waiting for IBM's promised POWER8 installations in other nations. ®
* IBM's 2015 press release does say "second quarter" but doesn't specify a year. In your correspondent's experience it would be unprecedented for a press release to be so deliberately obfuscatory as to mention a quarter without disclosing the actual release was a year distant.
Similar topics