EMC says Pure Storage dedupe is both in-line and post-process
So which is it, Hopkinton? You can't have it both ways
---
EMC has won $14m in damages because Pure, it claimed, infringed its patented inline deduplication – yet it is also claiming Pure's deduplication is not inline in a "Pure Top Ten Lies" document.
According to Pure, Hopkinton is arguing in a Massachusetts District Court case1 concerning recruitment of EMC employees by Pure, that Pure's deduplication is post-process and not inline.
US law forbids two contradictory positions being argued simultaneously in different courts.
The Massachusetts case was filed by EMC in April 2013. Its original complaint claims that Pure had a "nationwide pattern of collusion with numerous former EMC employees to induce violations of their legal obligations to EMC, to misappropriate and bring to Pure Storage competitively sensitive confidential EMC information and trade secrets, and to use such information to unlawfully interfere with EMC customers and employees."
It alleges:
...dozens of former EMC employees have joined Pure Storage and stolen tens of thousands of pages of proprietary, highly confidential and competitively sensitive EMC materials – including highly specific information about EMC's directly competing flash storage solution, EMC's strategies to implement and sell that solution, and targeted, detailed information about EMC's customers and their buying patterns.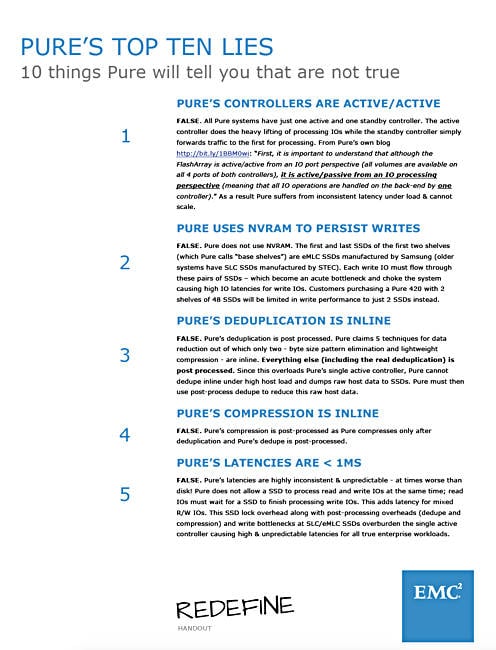 An extract from Pure's Top Ten Lies document from October 2014, as issued by EMC
It also alleges former Data Domain CEO Frank Slootman, who is a Pure board member, "has been actively involved for Pure Storage in the identification and/or recruitment of highly skilled EMC employees."
Pure's response is detailed in document 326 filed by Pure in the Massachusetts case, which states: "EMC apparently plans to assert truth as a defense—telling the jury that Pure's deduplication is not inline, or at least was not inline until late 2015."

"Lie 3" from EMC's "Pure's Top Ten Lies" document.
Pure's defence continued to say: "EMC cannot reconcile its expected "truth" defense with the story EMC told in Delaware District Court. There, EMC accused Pure of infringing EMC patents through Pure's inline deduplication feature, which EMC stated was in "every single product, every single device that [Pure] ever sold, ever shipped, ever installed."
EMC is said to have told the Delaware jury that Pure's inline deduplication was "key," "essential," and "mandatory" to Pure's products. EMC's arguments prevailed, winning EMC summary judgment of infringement and a $14m damages award.
Pure says the Top Ten Lies document was given to EMC's sales force in October 2014, after EMC entered the all-flash array market with its XtremIO product in late 2013. It is arguing for a summary judgement in the Massachusetts case that EMC's "Lie 3" in the Top Ten Lies document is false, which would help its defence against EMC's lawsuit.
If EMC argues that "Lie 3" is true, and Pure's dedupe is not inline, then it has given Pure a way to destroy the $14m Delaware court judgement. ®
Bootnote
Case number 1:13-cv-12789, United States District Court, District of Massachusetts.